© 2009
Chaos: Concepts, Control and Constructive Use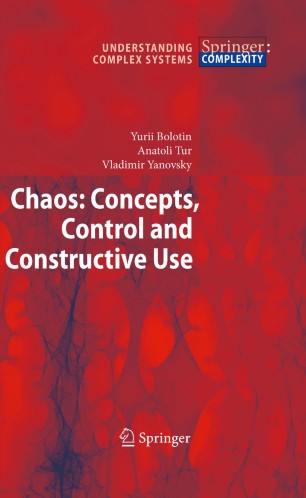 About this book
Introduction
The study of chaotic behaviour in nonlinear, dynamical systems is now a well established research domain with ramifications into all fields of sciences, spanning a vast range of applications, from celestial mechanics, via climate change, to the functioning of brownian motors in cells.
A more recent discovery is that chaos can be controlled and, under appropriate conditions, can actually be constructive in the sense of becoming a control parameter itself for the system under investigation, stochastic resonance being a prime example.
The present work is putting emphasis on the latter aspects, and after recalling the paradigm changes introduced by the concept of chaos, leads the reader skillfully through the basics of chaos control by detailing relevant algorithms for both Hamiltonian and dissipative systems amongst others.
The main part of the book is then devoted to the issue of synchronization in chaotic systems, an introduction to stochastic resonance and a survey of ratchet models.
This short and concise primer is particularly suitable for postgraduate students and non-specialist scientists from related areas, wishing to enter the field quickly and efficiently.
Keywords
chaos
chaos control
mechanics
reconstruction of dynamical systems
resonance
stochastic resonance
synchronization in complex systems
system
complexity
Bibliographic information
Reviews
From the reviews:
"This book is an excellent introduction to the key concepts and control of chaos in (random) dynamical systems in order to reach a large audience from science and engineering. The presentation is organized in 8 chapters. … The authors find an outstanding balance between main physical ideas and mathematical terminology to reach their audience in an impressive and lucid manner. This book is ideal for anybody who likes to grasp quickly the main issues related to chaos in discrete and continuous time." (Henri Schurz, Zentralblatt MATH, Vol. 1178, 2010)