© 2009
Weaving Services and People on the World Wide Web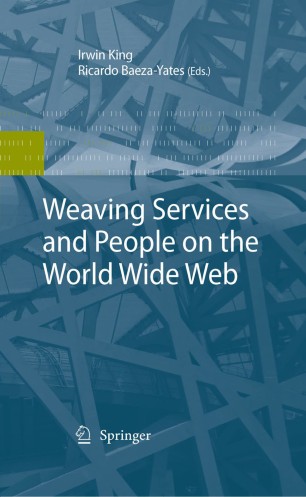 About this book
Introduction
Ever since its inception, the Web has changed the landscape of human experiences on how we interact with one another and data through service infrastructures via various computing devices. This interweaving environment is now becoming ever more embedded into devices and systems that integrate seamlessly on how we live, both in our working or leisure time.
For this volume, King and Baeza-Yates selected some pioneering and cutting-edge research work that is pointing to the future of the Web. Based on the Workshop Track of the 17th International World Wide Web Conference (WWW2008) in Beijing, they selected the top contributions and asked the authors to resubmit their work with a minimum of one third of additional material from their original workshop manuscripts to be considered for this volume. After a second-round of reviews and selection, 16 contributions were finally accepted.
The work within this volume represents the tip of an iceberg of the many exciting advancements on the WWW. It covers topics like semantic web services, location-based and mobile applications, personalized and context-dependent user interfaces, social networks, and folksonomies. The presentations aim at researchers in academia and industry by showcasing latest research findings. Overall they deliver an excellent picture of the current state-of-the-art, and will also serve as the basis for ongoing research discussions and point to new directions.
Keywords
Access
Editing
Interface
Location-Based Services
Mobile Applications
Semantic Web
User Interfaces
WWW
Web Services
Wikis
classification
knowledge management
presentation
social networks
user interface
Bibliographic information