© 2009
Quantum Field Theory II: Quantum Electrodynamics
A Bridge between Mathematicians and Physicists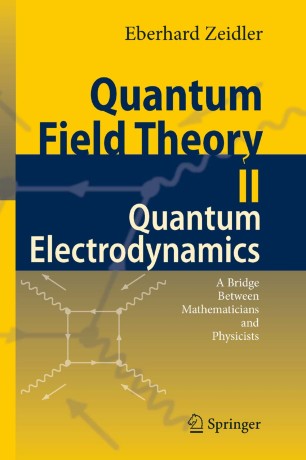 Table of contents
Introduction

Basic Ideas in Classical Mechanics

Basic Ideas in Quantum Mechanics

Quantum Electrodynamics (QED)

Renormalization
About this book
Introduction
This is the second volume of a modern introduction to quantum field theory which addresses both mathematicians and physicists ranging from advanced undergraduate students to professional scientists. This book seeks to bridge the existing gap between the different languages used by mathematicians and physicists.
For students of mathematics it is shown that detailed knowledge of the physical background helps to discover interesting interrelationships between quite diverse mathematical topics. For students of physics fairly advanced mathematics, beyond that included in the usual curriculum in physics, is presented.
The present volume concerns a detailed study of the mathematical and physical aspects of the quantum theory of light.
Keywords
Operator
combinatorics
functional analysis
linear optimization
mathematical physics
mechanics
quantum electrodynamics
quantum field theory
quantum mechanics
scattering theory
statistical mechanics
Bibliographic information
Reviews
From the reviews:
"This book is the second volume of an impressive monograph that provides introductory accounts of important topics in mathematical physics for graduate students and research workers. It combines theories and applications to demonstrate how the rigorous mathematical point of view helps to clarify and answer questions arising in quantum field theory with a special emphasis on QED. … Supplemented with an extensive bibliography and historical remarks and citations, this is in my perspective a perfect book for mathematicians and physicists … ." (Gert Roepstorff, Zentralblatt MATH, Vol. 1155, 2009)
"It is very valuable to allow mathematicians to learn about one of the most successful physical theories, and … bring more mathematical approaches to QFT under the attention of physicists. … the book has a very rich up-to-date bibliography, hints for further reading closing each chapter and many historical remarks and quotes. … Quantum field theory. II. Quantum electrodynamics does a great job in guiding the interested reader through the literature … at the same time giving an overview of many aspects of quantum electrodynamics." (Walter D. van Suijlekom, Mathematical Reviews, Issue 2010 a)
"The book by Zeidler … is the second volume of a projected six-volume treatise on quantum field theory. The present volume is on quantum electrodynamics … . The book under review treats so many topics that the reader feels like a tourist on a package tour that visits 19 countries in 5 days, neglecting not a single monument or picture gallery." (William G. Faris, SIAM Review, Vol. 52 (2), 2010)