© 2009
Tools of Radio Astronomy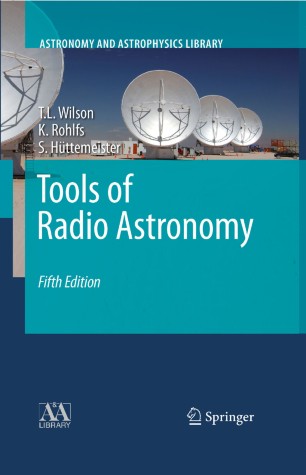 About this book
Introduction
The recent years have seen breathtaking progress in technology, especially in the receiver and digital technologies relevant for radio astronomy, which has at the same time advanced to shorter wavelengths.
This is the updated and completely revised 5th edition of the most used introductory text in radio astronomy. It presents a unified treatment of the entire field from centimeter to sub-millimeter wavelengths. Topics covered include instruments, sensitivity considerations, observational methods and interpretations of the data recorded with both single dishes and interferometers. This text is useful to both students and experienced practicing astronomers. Besides making major updates and additions throughout the book, the authors have re-organized a number of chapters to more clearly separate basic theory from rapidly evolving practical aspects.
Further, problem sets have been added at the end of each chapter.
Keywords
ALMA
Line Radiation
Microwave Receiver Technology
Radiation Processes
Radio Astronomy
Radio Interferometer
Telescope Design
instruments
Bibliographic information
Reviews
From the reviews of the fifth edition:
"A very significant change from earlier versions is the addition of problem sets at the ends of each of the 16 chapters … . the discussion of instrumentation and data collection and processing which looks forward to ALMA and the SKA, making the volume useful, the authors hope, for radio engineers (a grand old name, which they apply to Jansky and Reber) as well as radio astronomers … . I'm sure you will find this iteration … as useful as the previous four." (Virginia Trimble, The Observatory, Vol. 129 (1211), August, 2009)
"The publication of a fifth edition of Tools of Radio Astronomy is in itself proof of the success of the book. … will be useful to communication engineers, a claim about which one can have some reservations. … this up-to-date version will be of invaluable use to the observational astronomer. … provides a toolbox of essential material, in particular in the area of the analysis and interpretation of radio-astronomy observations. The book should be on the desk of every practicing radio astronomer … ." (Jacob W. M. Baars, The Radio Science Bulletin, Issue 330, September, 2009)