© 2009
Applied Scanning Probe Methods XIII
Biomimetics and Industrial Applications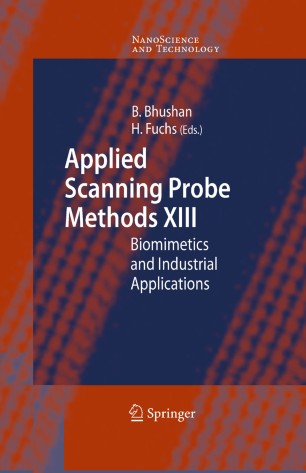 About this book
Introduction
The volumes XI, XII and XIII examine the physical and technical foundation for recent progress in applied scanning probe techniques. The first volume came out in January 2004, the second to fourth volumes in early 2006 and the fifth to seventh volumes in late 2006. The field is progressing so fast that there is a need for a set of volumes every 12 to 18 months to capture latest developments. These volumes constitute a timely comprehensive overview of SPM applications.
After introducing scanning probe microscopy, including sensor technology and tip characterization, chapters on use in various industrial applications are presented. Industrial applications span topographic and dynamical surface studies of thin-film semiconductors, polymers, paper, ceramics, and magnetic and biological materials.
The chapters have been written by leading researchers and application scientists from all over the world and from various industries to provide a broader perspective.
Keywords
Material Science
Nanoscience
Physical Chemistry
Surface Science
ceramics
microfluidics
microscopy
polymer
Bibliographic information
Reviews
From the reviews:
"Volume XIII, dealing with biomimetics and industrial applications, deals with a variety of unconventional applications … . The editors and their talented authors have been among the leaders in the study of probe methods. … Each chapter captures both the excitement and the importance of the work and conclusions reported, and will make profitable reading for researchers at all experience levels. … All the chapters are supported by extensive lists of references and beautifully illustrated and in color too, also along with graphs, equations etc." (Current Engineering Practice, 2009)
"The … volume covers new advances in biomimetics. … highlight various studies, techniques and applications that permit us to image, modify, fabricate and control structures at the molecular and atomic level. … well-written and clearly illustrated. … also contain ample experimental data and significant discussion of limitations and artifacts." (Barry R. Masters, Optics & Photonics News, September, 2009)