© 2008
Implementing Semantic Web Services
The SESA Framework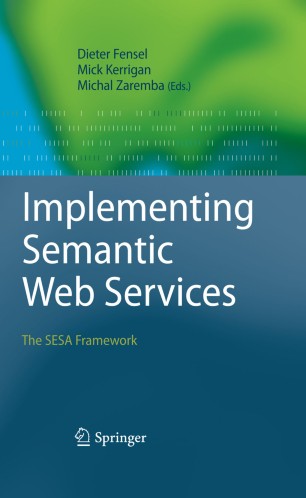 Table of contents
About this book
Introduction
Service-oriented computing has become one of the predominant factors in IT research and development efforts over the last few years. In spite of several standardization efforts that advanced from research labs into industrial-strength technologies and tools, there is still much human effort required in the process of finding and executing Web services.
Here, Dieter Fensel and his team lay the foundation for understanding the Semantic Web Services infrastructure, aimed at eliminating human intervention and thus allowing for seamless integration of information systems. They focus on the currently most advanced SWS infrastructure, namely SESA and related work such as the Web Services Execution Environment (WSMX) activities and the Semantic Execution Environment (OASIS SEE TC) standardization effort. Their book is divided into four parts: Part I provides an introduction to the field and its history, covering basic Web technologies and the state of research and standardization in the Semantic Web field. Part II presents the SESA architecture. The authors detail its building blocks and show how they are consolidated into a coherent software architecture that can be used as a blueprint for implementation. Part III gives more insight into middleware services, describing the necessary conceptual functionality that is imposed on the architecture through the basic principles. Each such functionality is realized using a number of so-called middleware services. Finally, Part IV shows how the SESA architecture can be applied to real-world scenarios, and provides an overview of compatible and related systems.
The book targets professionals as well as academic and industrial researchers working on various aspects of semantic integration of distributed information systems. They will learn how to apply the Semantic Web Services infrastructure to automate and semi-automate tasks, by using existing integration technologies. In addition, the book is also suitable for advanced graduate students enrolled in courses covering knowledge management, the Semantic Web, or integration of information systems, as it will educate them about basic technologies for Semantic Web Services and general issues related to integration of information systems.
Keywords
Information Technology (IT)
Middleware
Service-Oriented Architecture
Service-oriented Computing
Web
Web Services
architecture
development
information system
knowledge management
search engine marketing (SEM)
semantic web
software
software architecture
structured analysis
Bibliographic information