© 2009
Habitability and Cosmic Catastrophes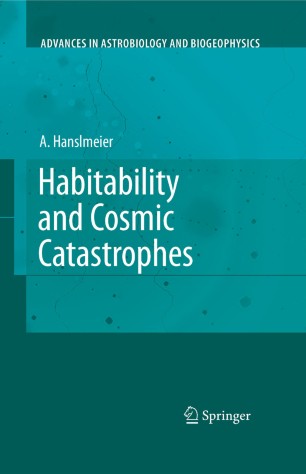 About this book
Introduction
The solar system has a rather well-known history. Looking at the present situation, one might get the impression that it was a rather stable and well-defined system: the orbits of the planets appear to be stable, climate and atmospheres on the planets have been determined, the risk of collision with other bodies (comets, asteroids, meteorites) seems to be small. However it is known today that the evolution of life on Earth was neither a steady progression nor uniform. There were several periods of mass extinction. These catastrophic events played a crucial role in the rise of new species. Events of astrophysical origin include:
• Asteroid impacts
• Major solar variabilty (space weather)
• Nearby supernovae
• The passage of the solar system through dense interstellar clouds
Catastrophic cosmic events of this type appear in the range of some 100 million years. The author discusses whether and how such events could have occurred in the solar system as well as in recently found extrasolar planetary systems.
In this text, which addresses readers in the field of Astrophysics and Astrobiology but also Geophysics and Biology these cosmic catastrophic events are described at an intermediate student's level.
Keywords
Cosmic catastrophes
Extra Solar Planets
Extraterrestrial life
Habitability
Planet
Planetary system
Solar System
Space Weather
Sun:Variation
astrobiology
astrophysics
extremophile
solar
Bibliographic information
Reviews
From the reviews:
"Habitability and Cosmic Catastrophes, part of the 'Advances in Astrobiology and Biogeophysics' series, is an interesting read. Hanslmeier … provides information that spans numerous disciplines, from solar and galactic astrophysics and geology to biology. The book's reach is tremendous: attempting to assess the risk to life from various cosmic catastrophes that range from supernovae to asteroid collisions and almost everything in between. … Summing Up: Recommended. Upper-division undergraduates through professionals/practitioners." (E. S. Perlman, Choice, Vol. 46 (11), 2009)