© 2008
Ecology of Social Evolution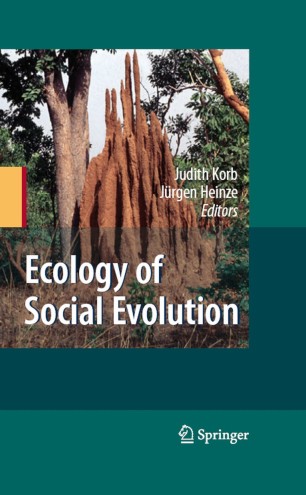 About this book
Introduction
Research on the evolution of social behaviour has been dominated by genetic relatedness for a long time; however, both recent empirical studies and theoretical concepts give growing evidence for ecological factors acting as very prominent additional or alternative driving forces in social evolution. Now the time is ripe to investigate similarities and differences in the course of social evolution in different animals. This book brings together renowned researchers working on sociality in different animals. For the first time, they compile the evidence for the importance of ecological factors in the evolution of social life, ranging from invertebrate to vertebrate social systems, and evaluate its importance versus that of relatedness.
Answers are given to important questions such as:
- Which factors favour group living in social invertebrates and vertebrates?
- Are there general differences in the evolutionary forces promoting social life in social insects versus cooperatively breeding vertebrates?
- Why are there only so few eusocial vertebrates?
- Can relatedness within social groups be a by-product arising from the fact that neighbours are generally kin?
Keywords
Cooperation
altruism, animals
animal behaviour
ecological constraints
ecology
entomology
evolution
kin selection
Bibliographic information
Reviews
From the reviews:
"The ecology of social evolution … attempt to redress a perceived bias for genetic interpretations in the study of social evolution by focussing on the ecological side. … there are new and valuable insights in this book. Readers will find authoritative and up-to-date reviews on a wide range of taxa, from social insects both familiar and unfamiliar, to social vertebrates including cooperatively breeding birds, mole-rats and primates." (Andrew F.G. Bourke, Myrmecological News, Vol. 200 (11), August, 2008)