© 2007
Service Quality Regulation in Electricity Distribution and Retail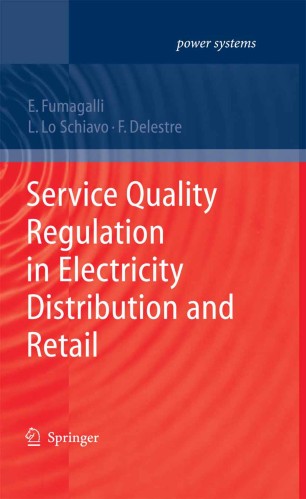 About this book
Introduction
Service Quality Regulation in Electricity Distribution and Retail provides a guide for regulatory authorities and postgraduate students alike, accompanying readers through the necessary steps for designing and implementing regulatory policy. It builds a bridge between the theoretical aspects of service quality regulation and country-specific applied mechanisms. The book offers examples as provided by regulatory authorities (including some not often available in the English language), and suggests best practices as elaborated by a number of international regulatory organizations.
The book is a comprehensive, clear, well-organized description of applied quality regulation in the electricity sector as it is, today. Advanced readers will also appreciate its survey of the most innovative regulatory mechanisms currently being employed (and
tested) in European countries, as well as those that have been proposed in the literature.
Keywords
Commercial Quality
Continuity of Supply
Electricity Distribution
Quality Regulation
Voltage Quality
Bibliographic information