© 2007
Security, Privacy, and Trust in Modern Data Management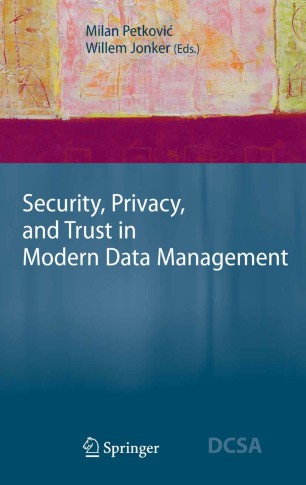 About this book
Introduction
The vision of ubiquitous computing and ambient intelligence describes a world of technology which is present anywhere, anytime in the form of smart, sensible devices that communicate with each other and provide personalized services. However, associated with these benefits are concerns with respect to security issues. Open interconnected systems are much more vulnerable to attacks and unauthorized data access. Furthermore, it becomes simpler to collect, store, and search personal information and endanger people's privacy.
In the context of this menace, Petkovic and Jonker provide a comprehensive guide to data management technologies with respect to security, privacy and trust. After the introductory part that offers a perspective on privacy and security issues in the modern digital world, the contributions from leading researchers are grouped into sections on data and system security, privacy-enhancing techniques, digital asset protection, and selected topics on privacy and security in ambient intelligence. Overall, the book delivers, from information on the ethical and legislative background, to chapters on the state-of-the-art technologies such as access control, identity management and digital rights management to advice on implementing fair information practices and preventing security and privacy violations.

With this broad approach, this book appeals equally to researchers and graduate students looking for an overview of this area of ever-growing importance and to professional developers who require sound theoretical grounds for the design and implementation of secure privacy-preserving ubiquitous applications.
Keywords
Access
access control
ambient intelligence
authentication
data mining
data security
database
identity management
information
information security
privacy
radio-frequency identification (RFID)
security
ubiquitous computing
watermarking
Bibliographic information