© 2007
Bildatlas der Lungen- und Pleurasonographie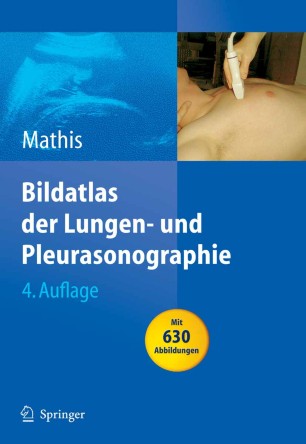 Table of contents
Indikationen, gerätetechnische Voraussetzungen und Untersuchungsvorgang

Die Brustwand

Pleura

Subpleurale Lungenkonsolidierungen

Mediastinum

Endobronchiale Sonographie

Vaskularisation und Kontrastmittelsonographie

Bildartefakte und Pitfalls

Interventionelle Sonographie am Thorax

Weißer Hemithorax — ein Bildessay

Vom Symptom zur Diagnose
About this book
Introduction
Der Schallkopf als Stethoskop
Kleinere, tragbare Ultraschallgeräte, die immer dabei sind, ermöglichen die "Bedside-Sonographie". Moderne Technik liefert Bilder höchster Qualität - Kosten sparend, ohne Belastung für den Patienten. Die Lungen- und Pleurasonographie ist inzwischen breit etabliert - in den letzten Jahren haben sich die Untersuchungszahlen vervielfacht.
Grundlagen. Indikationen, Gerätetechnik, Bildartefakte, Untersuchungsgänge
Diagnostik, Befundung, Verlaufskontrolle, Ausführliche Darstellung der bildgebenden Stufendiagnostik, mit Praxistipps und Hinweisen auf Fehlerquellen, inklusive detaillierter Darstellung der Ultraschalluntersuchung des Mediastinums (endobronchialer Schall, transösophagealer Schall)
Umfangreiches einzigartiges Bildmaterial. Hochwertige Abbildungen nach neuester Technik
Vollständig neue Kapitel und Inhalte u.a.: Entscheidungsfindung "Vom Symptom zur Diagnose", Vaskularisation der Lunge, Kontrastunterstützte Sonographie (KUS)
State of the art von den Meinungsbildnern des deutschsprachigen Raums. DAS Standardwerk für die Lungen- und Pleurasonographie.
Keywords
Diagnose
Diagnostik
Kontrastmittel
Lunge
Lungensonographie
Pleura
Pleurasonographie
Pneumologie
Sonographie
Tumor
Ultraschall
Bibliographic information