© 2019
Latin American Geopolitics
Migration, Cities and Globalization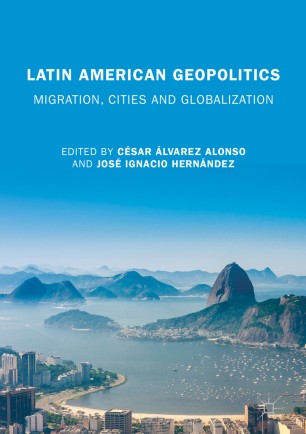 Table of contents
About this book
Introduction
This edited volume analyzes globalization, migration, cities and development in Latin American geopolitics. The globalization in Latin America lays out various interrelated social, economic and political networks which challenge local-regional political systems, urban-rural territorial management, transnational mobility, social mobilization patterns, migrants, gender rights, illegal border crossing, urban and transnational violence and crime. Also, globalization and migration are changing Latin America's own vision as a collective community. The contributors argue that the economic regionalization-globalization promotes changes in the social and economic geography which refer to social phenomena, the dynamic of social classes and their spatial implications, all of which may impact economic growth on the region. Finally, a multidisciplinary perspective is used to highlight the complexity of migration, cities and globalization in Latin America. The project will appeal to a wider audience including political scientists, scholars, researchers, students and non-academics interested in Latin American geopolitics.
César Álvarez Alonso is Visiting Researcher at the Institute for Global Law and Policy at Harvard Law School, USA.
José Ignacio Hernández is Visiting Researcher at the Center for International Development at Harvard Kennedy School, USA.

Keywords
Latin America
Geopolitics
Migration
Globalization
Development
Bibliographic information
Reviews
"This book is an indispensable tool for faculty, researchers, students and readers in general seeking to thoroughly learn about migration in the region and its consequences. The book provides a strong review of the main trends in the globalization process that the region is experiencing. It also weaves together theoretical and empirical aspects that help better understand problems and casuistry related to migration such as crime, labor relations and social exclusion. Widely and deservedly praised as a major achievement in the field." (Ivana Stradner, University of California Berkeley School of Law, USA)
"This is undoubtedly one of the most wide-ranging and thorough studies recently carried out about the migratory phenomenon in Latin America from an interdisciplinary perspective. It examines how it has reshaped its cities and the composition of its population. This outstanding book also addresses the legal and sociological challenges posed by migration within Latin American countries. The result is an over-encompassing piece, which is an essential tool for academics and policy experts that wish to delve into the complex and diverse reality of the region." (Andrés Arias Astray, Universidad Complutense de Madrid, Spain)
"Through a series of original and well-chosen contributions, this work offers a most valuable insight into the realities and complexities of contemporary migration in Latin America. It explores skillfully the many different forms of migration, both legal and illegal, which exist in this region, as well as the numerous factors and different processes that explain these movements. The book's enlightened analysis represents a welcome and important contribution to the literature on this subject." (John Tuppen, Urban Planning and Geography Institute, Université Grenoble-Alpes, France)