© 2019
Syria: From National Independence to Proxy War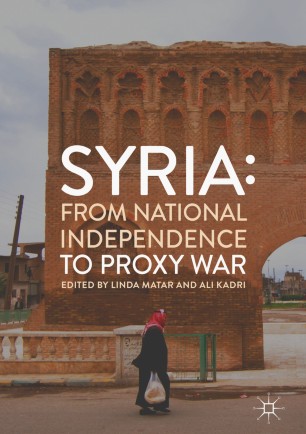 Table of contents
About this book
Introduction
This edited collection aims to analytically reconceptualise the Syrian crisis by examining how and why the country has moved from a stable to a war-torn society. It is written by scholars from a variety of disciplinary backgrounds, all of whom make no attempt to speculate on the future trajectory of the conflict, but aim instead to examine the historical background that has laid the objective conditions for Syria's descent to its current situation. Their work represents an attempt to dissect the multi-layered foundation of the Syrian conflict and to make understanding its complex inner workings accessible to a broader readership. The book is divided into four parts, each of which elaborates on the origins and dynamics of today's crisis from the perspective of a different discipline. When put together, the four parts provide a holistic picture of Syria's developmental trajectory from the early twentieth century through to the present day. Themes addressed include Syria's postcolonial development efforts, its leap into socialism and then into neoliberalism in the late twentieth century, its politics within the resistance front, and finally its food and health security concerns.
Linda Matar is Senior Research Fellow at the National University of Singapore (NUS). She is also Lecturer at the NUS's College of Alice and Peter Tan. Her research interests include the political economy of the Arab Near East and Southeast Asia. She is the author of The Political Economy of Investment in Syria (2016).
Ali Kadri is Senior Fellow at the NUS and Visiting Fellow at the London School of Economics, UK. His recent publications include The Cordon Sanitaire: A Single Law Governing Development in East Asia and the Arab World (2018).
Keywords
Neoliberalism
Proxy War
The Arab Spring
Russia
The Middle East
Heterodox Economics
The Political Economy of War
Syria's Macroeconomic Framework
French Imperialism
Beirut
Lebanon
Hezbollah
The Syrian Conflict
Syria
Syrian Agriculture
The Ba'ath Party
Arab Nationalism
Iran
China
Security and Development
Bibliographic information
Reviews
"The literature on Syria is deadened by lack of proper acknowledgment of Syria's complex history and its role not only in the Arab world but in world affairs. Linda Matar and Ali Kadri have produced a superb edited collection that digs deep into the history, the economy, the politics and culture of Syria - allowing us to have a much richer assessment of the destruction of the country in the past decade. A valuable book." (Vijay Prashad, Director, Tricontinental: Institute for Social Research, India)