© 2019
French Language Policies and the Revitalisation of Regional Languages in the 21st Century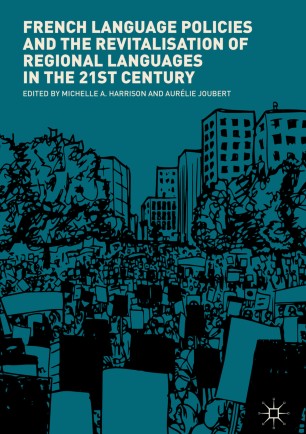 Table of contents
Reconsidering Boundaries: Languages, Dialects and Translingual Practices

New Dynamics in the Communities: Transmission, Identity Relations and the Emergence of New Speakers

The Perception of Regional Languages: Visibility and Modernity

The Long-Term Impact of French Public Policy and the Resistance to the European Charter for Regional or Minority Languages
About this book
Introduction
This edited volume presents an analysis of the evolution of French language policies and their impact on French regional languages and their communities. It gathers studies on language revitalisation from several territorial minority languages (Breton, Alsatian, Catalan, Occitan, Basque, Corsican, Francoprovençal, Picard, Reunionese) and evaluates the challenges and opportunities that they face in the 21st century. The chapters tackle different aspects of language endangerment and language planning and adopt varied theoretical and methodological approaches. The first section of the book reconsiders the difficulties in establishing linguistic boundaries and classification for some regional languages. The second section examines the important theme of the new generation of speakers with issues of transmission and identity formation and the changes they can bring to traditional communities. The third section highlights new developments in the context of new technologies and the heightened visibility of regional languages. Finally, the last section presents an overview of the contemporary situation of minority language revitalisation in France and synthesises the key trends identified in this volume: from the educational domain to the European Charter for Minority and Regional languages. This book will appeal to students and scholars of the sociology of language, sociolinguistics, language policy, minority languages and language endangerment.
Michelle A. Harrison is Teaching Fellow in French Studies at the University of Leicester, UK. She has published on regional language-in-education policy and the evolution of language beliefs in Alsace.
Aurélie Joubert is Lecturer in French Studies at Queen's University Belfast, UK. She has published on language endangerment and transnational speakers' attitudes in particular with respect to Occitan and Catalan.

Keywords
Linguistic diversity
Regional languages
Dialect
Diglossia
European Charter for Regional or Minority Languages
new speakers
language and identity
minority language activism
language revitalisation
language ideology
French public policy
Breton
Alsatian
Catalan
Occitan
Basque
Corsican
Francoprovençal
Reunionese
Picard
Bibliographic information
Reviews
"At a time when the traditional regional and minority languages of France find themselves in a state of increasing language obsolescence, this volume provides an essential critical analysis of the policy constraints that inhibit revitalisation efforts in the French context, with the aim of integrating future endeavours to reverse language shift into an existing set of Republican values and ideologies." (Damien Mooney, Lecturer in French Linguistics, University of Bristol, UK)
"For the student of French dialectology and of France, the country's policies on its regional languages cannot fail to be absorbing. This volume offers a near-comprehensive treatment by leading scholars of the linguistic, cultural and political aspects of the subject. The book represents the state of the art, and will be of interest to advanced students and teachers alike." (Nigel Armstrong, Senior Lecturer in French, University of Leeds, UK)