© 2019
The Palgrave Handbook of Social Creativity Research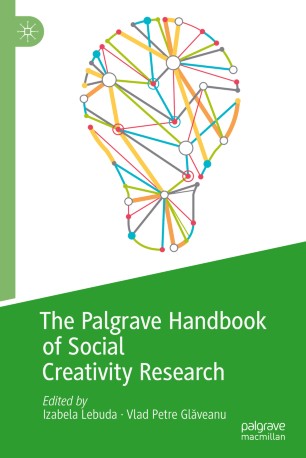 Table of contents
About this book
Introduction
This Handbook brings together an international cast of experts to explore the social nature and context of creativity studies, focusing on methodology as a key component in advancing the social study of creativity. Two decades on from the pioneering work of Alfonso Montuori and Ronald E. Purser, the authors present a timely appraisal of past and present work in social creativity studies, and look ahead to future developments within this field.
The authors collectively offer a rigorous examination of the methodological and empirical issues and techniques involved in studying social creativity. They examine the phenomenon as a form of communication and interaction within collaborative relationships; contending that creativity happens not within a vacuum but instead from a nexus of personal, social and contextual influences.
This comprehensive work is organized in three parts, focusing first on the various methodological approaches applicable to the social in creativity studies. It secondly turns to empirical findings and approaches relating to the social nature of creativity. In the book's final part, the authors offer reflections on the state of social research into creativity, pinpointing areas requiring further methodological scrutiny and empirical verification, and areas that may inspire further theoretical or applied work. Combining classic ideas with cutting-edge, emerging methods, this work provides a vital methodological 'toolbox' for investigators within social creativity.
Izabela Lebuda is an educator and psychologist, Assistant Professor of the Psychology of Creativity Lab at the University of Wroclaw, Poland and collaborates with the Quality of Life Research Centre at Claremont Graduate University, USA. Her scientific research focuses on the determinants of creative development and achievements.
Vlad Petre Glăveanu is Associate Professor and Head of the Department of Psychology and Counselling as well as Director of the Webster Center for Creativity and Innovation (WCCI) at Webster University Geneva, Switzerland, and Associate Professor II at the University of Bergen, Norway. He has written extensively on creativity from social, cultural, developmental, critical and political perspectives. His current work develops a sociocultural theory of the possible in mind and society.
Keywords
social creativity
psychological methodology
creative context
empirical research
creative collaboration
psychology of creativity
collaborative relationship
creative potential
professional creativity
society and culture
Consensual Assessment Technique
creativity assessment
socio-emotional competence in preschool children
sociometric status
Life Positioning Analysis
Social psychology
Bibliographic information
Book Title

The Palgrave Handbook of Social Creativity Research

Editors

Izabela Lebuda
Vlad Petre Glăveanu


Series Title

Palgrave Studies in Creativity and Culture

Series Abbreviated Title

Palgrave Studies in Creativity and Culture

DOI

https://doi.org/10.1007/978-3-319-95498-1

Copyright Information

The Editor(s) (if applicable) and The Author(s)

2019

Publisher Name

Palgrave Macmillan, Cham

Hardcover ISBN

978-3-319-95497-4

Softcover ISBN

978-3-030-07045-8

eBook ISBN

978-3-319-95498-1

Edition Number

1

Number of Pages

XXIX, 593

Number of Illustrations

17 b/w illustrations, 21 illustrations in colour

Topics

Community and Environmental Psychology
Personality and Social Psychology
Cross Cultural Psychology
Cultural Studies
Arts

Reviews
"This Handbook is the most comprehensive international coverage of the newest tendencies in research on creativity from the perspective of its social regulation. While the notion of
creativity
carries with it a positive value in everyday speech, its social role is very complex—it can be appreciated, or declaratively highlighted, or even suppressed in those domains that are inherently competing with the holders of social power in a society. This Handbook provides the readers with a cross section of all the complexity of creativity and of the methodologies of its investigation, and is the basic resource for anybody who wants to understand how contemporary social sciences try to make sense of this exciting but complicated knowledge domain." (Jaan Valsiner, Professor of Cultural Psychology, Aalborg University)
"Creativity does not happen in a vacuum. The work of even the most isolated and recluse of creators is influenced at every turn by historical, cultural, subcultural, environmental and interpersonal factors. And yet very few creativity researchers and theorists have chosen to move beyond an almost exclusive focus on the individual. Until now. At long last, this research lens is broadening and insight into the social underpinnings of creativity is blossoming. This book offers the first comprehensive and international investigation of the new questions and research methodologies being explored. Well-known, established researchers join forces with more junior colleagues to offer highly readable and exciting windows into the much-needed study of the social context of creativity." (Professor Beth A. Hennessey, Professor of Psychology, Wellesley College, USA)