Transitions Between Sexual Systems
Understanding the Mechanisms of, and Pathways Between, Dioecy, Hermaphroditism and Other Sexual Systems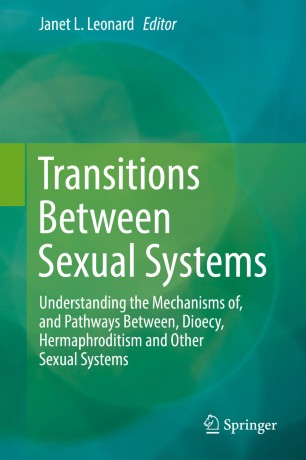 Table of contents
About this book
Introduction
This book focuses on explaining the distribution of sexual systems (simultaneous hermaphroditism, sequential hermaphroditism, environmental sex determination,dioecy, androdioecy, etc.) among taxa,which remains a major challenge in evolutionary biology. Although significant advances have been made for angiosperms, there is not yet a theory that predicts the sexual system for the majority of animal taxa, and other taxa of plants also remain poorly understood.
The problem, particularly for animals, is that sexual systems can be very conservative, with whole phyla and classes being characterized by a single sexual system; for example essentially the whole phylum Platyhelminthes is simultaneously hermaphroditic, whereas the Insecta (Hexapoda) and the Tetrapoda among the vertebrates, are exclusively dioecious. Sex allocation theory on the other hand, suggests that sexual systems should be highly responsive to evolution, changing with population density, life span, patterns of resource availability, etc. The book provides an overview of the topic and then presents a series of chapters, each dealing with a taxon with substantial lability in sexual system in order to identify the factors associated with changes in sexual system in each case. By doing so, the authors reveal factors that have not been considered in formal theory but seem to have a major impact on transitions between sexual systems.
This book appeals to a wide readership in fields from zoology and evolutionary biology to botany.
Keywords
Dioecy
Hermaphroditism
Williams' Paradox
Diversity of Sexual Systems
Environmental Sex Determination
Sex Determination
Bibliographic information
DOI

https://doi.org/10.1007/978-3-319-94139-4

Copyright Information

Springer Nature Switzerland AG 2018

Publisher Name

Springer, Cham

eBook Packages

Biomedical and Life Sciences

Print ISBN

978-3-319-94137-0

Online ISBN

978-3-319-94139-4