Precedents and Judicial Politics in EU Immigration Law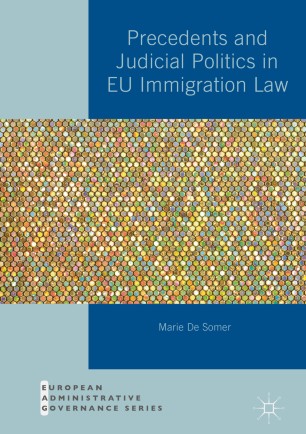 About this book
Introduction
In this important book, Marie De Somer analyses the role of the European Court of Justice in EU family reunification policies. With its precedent-based argumentation the Court succeeds in moving the case law beyond what member states agreed to. Based on a mixed-methods approach and carefully avoiding problems of observational equivalence, De Somer breaks new ground in showing the autonomy of the Court. I cannot recommend this volume highly enough.
​Susanne K. Schmidt, University of Bremen, Germany

This book explores the use of precedents in the case law of the Court of Justice of the European Union (CJEU). It argues that a strategic use of precedent-based discourses aids the Court in developing its jurisprudence autonomously; that is, independent of the political preferences of EU member states. The study is based on a long-term assessment of CJEU case law in the politically sensitive area of immigration law. It traces the Court's rulings in this area from the 1970s up until the most recent period. The study identifies a series of consistent discursive patterns that slowly, but surely, moved EU immigration law beyond what member states had intended. The work takes an interdisciplinary approach, engaging with both political science and legal discussions on the Court of Justice and its role in processes of European integration.
Marie De Somer is Head of the Migration and Diversity Programme at the European Policy Centre in Brussels and a Guest Professor at the KU Leuven Law Faculty. She has previously worked at Maastricht University, Belgium, the European Commission and the Centre for European Policy Studies.

Keywords
European integration
mixed methods
Court's role
Contextualist Legal Scholarship
Neofunctionalism
Intergovernmentalism
Qualitative Research
Quantitative Research
Observational Equivalence
Incrementalism
judicial interlocutors
Member States
Court legitimacy
judicial autonomy
free movement law
EU citizenship
EU immigration law
self-citation
Family Reunification Directive
Citizenship Directive
Bibliographic information