© 2018
Vilfredo Pareto: An Intellectual Biography Volume I
From Science to Liberty (1848–1891)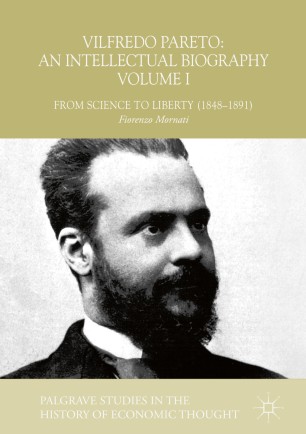 About this book
Introduction
This three volume series of intellectual biography considers the life, work and impact on economic, social and political theory of the Italian economist, sociologist and political scientist Vilfredo Pareto (1848–1923).
This volume covers the period starting from his childhood up to his early political activism, amateur journalism and initial scholarly contributions. His pre-Lausanne years are often neglected by students of Pareto, but form the intellectual and biographical background to his later contributions to economic, social and political theory.
Fiorenzo Mornati is Associate Professor in History of Economic Thought at the University of Turin, Italy.
Keywords
Vilfredo Pareto
History of economic thought
Pareto principle
Pareto efficiency
Hydraulic engineering
Technical journalism
Political liberalism
Religious liberalism
Economic liberalism
Moral liberalism
Anti-colonialism
Anti-militarism
Taxation and public expenditure
Economic theory
Economic aspects of socialism
Economic sociology
Economic philosophy
Bibliographic information