© 2019
Fear and Uncertainty in Europe
The Return to Realism?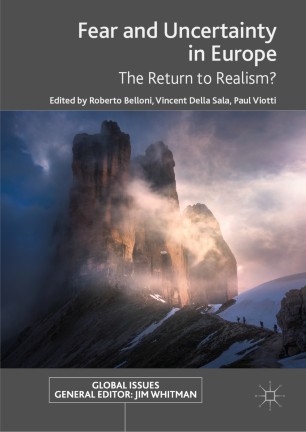 Table of contents
About this book
Introduction
Russia's intervention in the Ukraine, Donald Trump's presidency and instability in the Middle East are just a few of the factors that have brought an end to the immediate post-Cold War belief that a new international order was emerging: one where fear and uncertainty gave way to a thick normative and institutional architecture that diminished the importance of material power. This has raised questions about the instruments we use to understand order in Europe and in international relations. The chapters in this book aim to assess whether foreign policy actors in Europe understand the international system and behave as realists. They ask what drives their behaviour, how they construct material capabilities and to what extent they see material power as the means to ensure survival. They contribute to a critical assessment of realism as a way to understand both Europe's current predicament and the contemporary international system.
Roberto Belloni is professor of political science at the University of Trento, Italy.
Vincent Della Sala is associate professor of political science at the University of Trento, Italy.
Paul Viotti is professor at the University of Denver's Korbel School of International Studies and Executive Director of the Institute on Globalization and Security, USA.
Keywords
Fear
Uncertainty
Europe
Realism
normative and institutional architecture
post-Cold War
Nationalism
Internationalism
Russia
Russian nationalism
Brexit
America-first
multilateralism
geopolitics
liberal institutions
Foreign policy
defense policy
counterterrorism
NATO
Neocolonialism
Bibliographic information