© 2019
The Palgrave Handbook of Global Approaches to Peace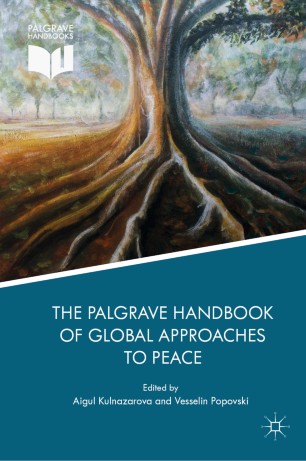 Table of contents
About this book
Introduction
With existing literature focusing largely on Western perspectives of peace and their applications, a global understanding of peace is much needed. Spurred by more recent debates and discourses that criticize the dominant realist and liberal approaches for crises in contemporary state- and peace-building, the contributors to this handbook emphasize not only the need to solve this eternal conundrum of humanity, but also demand—with the rise of increasingly more violent conflicts in international relations—the development of a global interpretive framework for peace and security. To this end, the present handbook examines conceptual, institutional and normative interpretive approaches for making, building and promoting peace in the context of roles played by state and non-state actors within local, national, regional, and global units of analysis.
Aigul Kulnazarova is Professor of International Relations and International Law in the School of Global Studies at Tama University, Japan.
Vesselin Popovski is Professor and Vice Dean in the School of Law, as well as Director of the Centre for UN Studies, at Jindal Global University, India.
Keywords
Global Peace
Building Peace
contemporary state- and peacebuilding
critical perspectives on peace
peace thinking
voices from the Global South
Democratic Peace theory
peace in international law
sustainable peace
international peace through governance
Bibliographic information