© 2018
Vulnerability, Childhood and the Law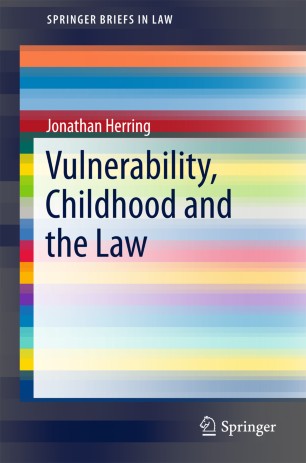 Table of contents
About this book
Introduction
This book will challenge the orthodox view that children cannot have the same rights as adults because they are particularly vulnerable. It will argue that we should treat adults and children in the same way as the child liberationists claim. However, the basis of that claim is not that children are more competent than we traditionally given them credit for, but rather that adults are far less competent than we give them credit for.
It is commonly assumed that children are more vulnerable. That is why we need to have a special legal regime for children. Children cannot have all the same rights as adults and need especial protect from harms. While in the 1970s "child liberationists" mounted a sustained challenge to this image, arguing that childhood was a form of slavery and that the assumption that children lacked capacity was unsustainable. This movement has significantly fallen out of favour, particularly given increasing awareness of child abuse and the multiple ways that children can be harmed at the hands of adults.
This book will explore the concept of vulnerability, the way it used to undermine the interests of children and our assumptions that adults are not vulnerable in the same way that children are. It will argue that a law based around mutual vulnerability can provide an approach which avoids the need to distinguish adults and children.
Keywords
Childhood
Vulnerability
Children's rights
Relational
Abuse
Welfare of the children
Child wellbeing
Paternalism
Legal guardian
Guardianship
Child liberationists
Capacity
Martha Fineman
Adulthood
Maturity
Fundamental liberties
Child maltreatment
Autonomy
Tutelage
Endangerment
Bibliographic information