© 2018
Crisis and Change in Post-Cold War Global Politics
Ukraine in a Comparative Perspective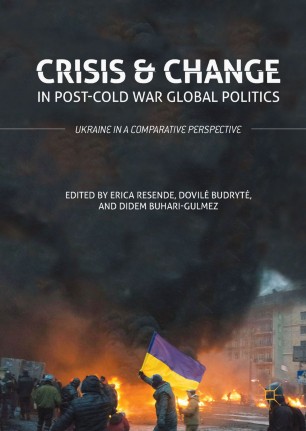 Table of contents
About this book
Introduction
This volume analyzes crises in International Relations (IR) in an innovative way. Rather than conceptualizing a crisis as something unexpected that has to be managed, the contributors argue that a crisis needs to be analyzed within a wider context of change: when new discourses are formed, communities are (re)built, and new identities emerge. Focusing on Ukraine, the book explore various questions related to crisis and change, including: How are crises culturally and socially constructed? How do issues of agency and structure come into play in Ukraine? Which subjectivities were brought into existence by Ukraine crisis discourses? Chapters explore the participation of women in Euromaidan, identity shifts in the Crimean Tatar community and diaspora politics, discourses related to corruption, anti-Soviet partisan warfare, and the annexation of Crimea, as well as long distance impacts of the crisis.
Erica Resende is Assistant Professor of Political Science at the Superior War College, Brazil, and Affiliate Lecturer at the University of Oklahoma, USA.
Dovilė Budrytė is Professor of Political Science at Georgia Gwinnett College, USA.
Didem Buhari-Gulmez is Associate Professor in International Relations at Izmir University of Economics, Turkey.
Keywords
Ukraine
Crimea
Crisis
Social change
Identity politics
Protest politics
Historical memory
Eastern Europe
EU
IR theory
Bibliographic information
Reviews
"This timely volume engages critically with the meaning of crisis and its relationship to change in international politics. Taking their cue from Dirk Nabers's understanding of crisis as 'a qualitative feature of the social,' the authors offer a refreshing poststructuralist analysis of the crisis in Ukraine/the Ukrainian crisis. This book will be of interest to political scientists, sociologists, contemporary historians and memory studies scholars for its thick and multidimensional reading of the Ukrainian 'event,' and theorising its political productivity beyond Ukraine." (Maria Mälksoo, Senior Lecturer in International Security, Brussels School of International Studies, University of Kent, Belgium)
"The volume edited by Resende, Budrytė and Buhari-Gulmez usefully shifts the focus in the discussion of 'the Ukraine crisis' to the concept of crisis as such. The case studies demonstrate how much is gained by working with poststructuralist concepts while performing thick, concrete analysis of crisis and political change." (Viacheslav Morozov, Professor of EU-Russia Studies at the University of Tartu, Chairman of the Council of the UT Centre for EU-Russia Studies, Estonia)
"This riveting volume focuses our attention on crisis and a very dynamic understanding of agency in global politics. Because the chapters focus on the case of Ukraine in the post-Cold War era (and within that, the 2010s), the result is a rare accomplishment of a volume with equally theoretically sophisticated and intellectually comprehensive contributions. Yet all, nevertheless, consistently speak to the same concept of crisis. Contributions are also incredibly accessible and tangible for readers approaching the volume for a number of purposes –as students, researchers, and/or practitioners. This book will energize the already urgent discourses in IR on identity, narrative, ontological (in)security, the politics of historical memory, trauma, and gender, and serve as a model collective set of case studies on Ukraine and the post-Soviet space." (Brent J. Steele, Francis D. Wormuth Presidential Chair, Director of Graduate Studies, Political Science Department, University of Utah, USA)
"Crisis and Change in Post-Cold War Global Politics: Ukraine in a Comparative Perspective is a penetrating study of the global dynamic with a sharp analytical eye on Ukraine. It's theoretically compelling and rich in empirical detail. The book deals with the wide range of issues which are topical both analytically and politically. This volume will surely become a must read for every student of IR and comparative politics." (Pavlo Kutuev, Professor and Chair of the Sociology Department, Igor Sikorsky Kyiv Polytechnic Institute, Ukraine)