© 2018
Gender, Family, and Adaptation of Migrants in Europe
A Life Course Perspective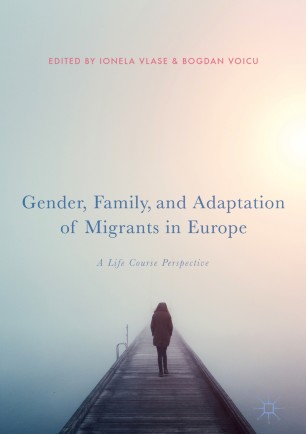 Table of contents
About this book
Introduction
This volume documents the life uncertainties revealed by migrants' biographies. For international migrants, life journeys are less conventional or patterned, while their family, work, and educational trajectories are simultaneously more fragmented and intermingled. The authors discuss the challenges faced by migrants and returnees when trying to make sense of their life courses after years of experience in other countries with different age norms and cultural values. The book also examines the ways to reconcile competing cultural expectations of both origin and destination societies regarding the timing of transitions between roles to provide a meaningful account of their life courses. Migration is, itself, a major life event, with profound implications for the pursuit of migrants' life goals, organization of family life, and personal networks, and it can affect, to a considerable degree, their subjective well-being.
Ionela Vlase is Senior Lecturer in Sociology at Lucian Blaga University of Sibiu, Romania.
Bogdan Voicu is Professor of Sociology at Lucian Blaga University of Sibiu, Romania, and First Degree Research Fellow with Romanian Academy, Research Institute for Quality of Life.
Chapter 9 is available open access under a Creative Commons Attribution 4.0 International License via link.springer.com.

Keywords
Immigration
Gender
Family
Parenthood
Age
Social Relationships
Adulthood
Economic Change
Migration
Europe
International
Romania
Poland
Ireland
Wellbeing
Bibliographic information
Reviews
"Migration has become a major political issue. It stirs up basic dimensions of human existence: identity, social position, gender, agency, privilege and discrimination, well-being, but also social context: institutional reactions, racist reactions, accessibility and closure. With its life-course approach to individual and contextual aspects of migration and also remigration, this volume provides a timely effort at putting this complexity into an integrative perspective." (René Levy, Professor Emeritus of Sociology, University of Lausanne, Switzerland)
"This book contributes to fill the gap of knowledge on the effects from migration on migrants' lives themselves. A very new insight is the fact that a life course perspective on migrants' trajectories during the economic crisis in Europe can explain why for non-EU migrants naturalization in the country of arrival became a solution to save their migration careers and that experiences of career fragmentation might create space for the renegotiation of gender identities." (Ursula Apitzsch, Professor, Goethe University, Germany)