The Laws of Transparency in Action
A European Perspective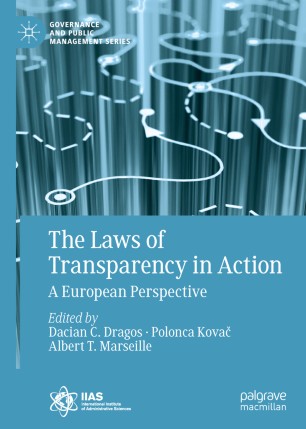 Table of contents
About this book
Introduction
Dacian C. Dragos is Jean Monnet Professor of Administrative and European Law and Co-director of the Center for Good Governance Studies at the Babes Bolyai University, Romania. Since 2010 he has chaired the Law and Administration panel of the European Group of Public Administration (EGPA). His research publications include several edited books, over 20 chapters in international books, and over 50 papers in scientific journals.
Polonca Kovač is an Associate Professor of Administrative Law and Public Administration at the University of Ljubljana, Slovenia. She is as a steering committee member of the Network of Institutes and Schools of Public Administration in Central and Eastern Europe (NISPAcee) and a co-director of the Law and Administration panel of the EGPA. She is an editor and author of numerous scientific articles and books, and an OECD/SIGMA expert.
A. T. (Bert) Marseille is Professor of Public Administration at the University of Groningen, the Netherlands. He is a co-director of the Law and Administration panel of the EGPA, a member of the steering committee for the promotion of Empirical Legal Studies in the Netherlands, chair of the Section North of the Dutch Association for Public Administration, and an editor of the Nederlands Tijdschrift voor Bestuursrecht.
This book examines the issue of free access to information as part of the openness and transparency principles. The free access to public information has become one of the most hotly contested aspects of contemporary government and public administration. Many countries in Europe have well-established Freedom of Information laws (FOIAs), while others have adopted them more recently. The problems that occur in the implementation of FOIAs are different due to the legal and institutional context; nevertheless, patterns of best practices and malfunctioning are comparable. The book analyses in comparative and empirical perspective the respective main challenges. Whilst the existing literature focusses on the legal provisions, this book offers practical insights through 13 national profiles and the EU level, on how effective the legal provisions of FOIAs really prove to be.

Keywords
transparency
freedom of information
FOIA
the right to information
RTI
access to information
re-use of information
proactive information
exceptions
Information Commissioner
Ombudsman
reforms
public administration
administrative procedure
remedies
legal and empirical research
France
Belgium
The Netherlands
Germany
Bibliographic information