Local Public Services in Times of Austerity across Mediterranean Europe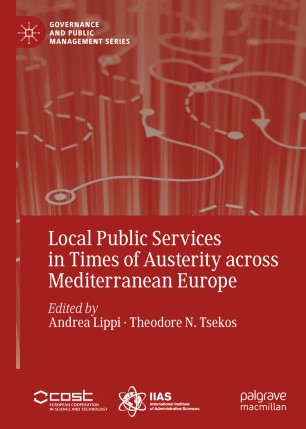 About this book
Introduction
This book provides a comparative analysis of the processes and impacts of austerity measures introduced in the field of Local Public Services (LPS) across Mediterranean Europe. The book describes and compares the trajectories of austerity, and the types of effects. It investigates how many (and what kind of) different responses were given to similar inputs and under the influence of what factors in order to understand if there are regularities in the way that the Mediterranean countries adopted and implemented the austerity measures and how these latter impacted on local government and LPS management and delivery. The book is a product of a sub network from the COST Action LocRef IS1207 and analyses seven countries (Portugal, Spain, Italy, Greece, Croatia, Cyprus and Albania).

Andrea Lippi is Associate Professor of Political Science, Università di Firenze, Italy.
Theodore N. Tsekos is Associate Professor of Public Administration, The Institute for Technological Education of Peloponnese, Kalamata, Greece.
Keywords
Austerity state
Mediterranean Europe
Local Public Service
Local Governance
Policy Transfer
Austerity strategies
austerity instruments
fiscal politics
clientelism
non-weberian bureaucracy
bailout agreements
Kallikrates and Kapodistria Plans
blame avoidance
recentralization
financial retrenchment
fiscal consolidation
economic crisis
austerity policies
deinsitutionalization
privatization
Bibliographic information