© 2018
Justin Trudeau and Canadian Foreign Policy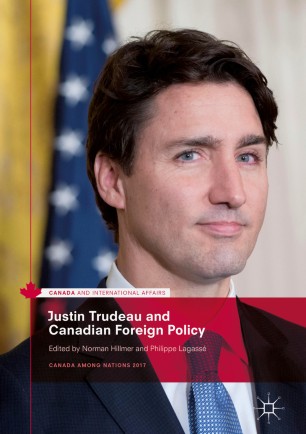 About this book
Introduction
This book offers the first comprehensive analysis of Canadian foreign policy under the government of Justin Trudeau, with a concentration on the areas of climate change, trade, Indigenous rights, arms sales, refugees, military affairs, and relationships with the United States and China. At the book's core is Trudeau's biggest and most unexpected challenge: the election of Donald Trump as president of the United States. Drawing on recognized experts from across Canada, this latest edition of the respected Canada Among Nations series will be essential reading for students of international relations and Canadian foreign policy and for a wider readership interested in Canada's age of Trudeau.
Norman Hillmer is Chancellor's Professor of History and International Affairs at Carleton University, Canada.
Philippe Lagassé is Associate Professor and the William and Jeanie Barton Chair, Norman Paterson School of International Affairs, at Carleton University, Canada.
Keywords
Justin Trudeau
Canadian Foreign Policy
Canadian International Affairs
Canadian defence policy
Trudeau administration
Trudeau Liberals
Canada and the Paris Accord
Canadian environmental policy
Canada's First Nations
Canada-Europe Trade Agreement
Bibliographic information
Reviews
"
Justin Trudeau and Canadian Foreign Policy
is a wide-ranging and convincing analysis of the prime minister's unexpected encounter with the international disruption created by the presidency of Donald Trump. With its differing perspectives, detailed research, and strong opinions, the book reveals why Canada faces new and profoundly troubling challenges in a rapidly changing international environment. It is essential reading for opinion leaders, academics, journalists, students, and the Prime Minister's Office." (John English, Founding Director, Bill Graham Centre for Contemporary International History, University of Toronto, Canada)
"Norman Hillmer and Philippe Lagassé have assembled an impressive and diverse set of contributors to the latest volume in the venerable Canada Among Nations series. Leading thinkers and new scholarly voices weave together the most comprehensive and thorough account yet of the Trudeau government's foreign policy record. Readers will return to this book again and again as Canada shuttles from one crisis to another in the unraveling world order of 2018 and beyond." (Christopher Sands, Paul H. Nitze School of Advanced International Studies (SAIS), Johns Hopkins University, USA)