© 2018
Regional Powers and Contested Leadership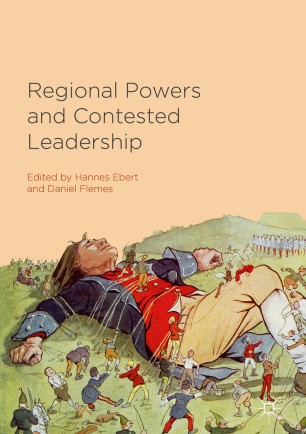 Table of contents
About this book
Introduction
When do rising powers fail to establish legitimate regional leadership and instead face contestation by their regional challengers? This book investigates how and why the BRICS (Brazil, Russia, India, China, and South Africa) project leadership in South America, post-Soviet Eurasia, South and Southeast Asia, and sub-Saharan Africa, respectively, and in what ways their main regional challengers respond. Based on a systematic conceptualization of the types and drivers of leadership and contestation, the authors assess the impact of the rise of regional powers on weaker states' security, sovereignty, and status, as well as the consequences of contestation for regional economic development and stability and the regional powers' bid for greater voice in global governance. By illuminating the sources and effects of power politics in five regions that are increasingly pivotal for the emerging world order, the volume offers a global comparative analysis of contemporary regional contested leadership that will interest scholars and students of international affairs, foreign policy, and area studies.
Hannes Ebert is Research Fellow at the GIGA German Institute of Global and Area Studies.
Daniel Flemes is Schumpeter Fellow at the GIGA German Institute of Global and Area Studies.
Keywords
Leadership and Emerging Powers
rising regional powers
regional leadership
BRICS
United Nations Security Council membership
contemporary power shifts in global politics
Bibliographic information
Reviews
"A major contribution to the study of regional orders. Through its theoretical sophistication, conceptual ambition, and empirical richness, this book advances our understanding of how shifting balances of power, institutional adaptation, and evolving norms and practices are reshaping politics and geopolitics across the world's major regions. This volume is an impressive intellectual achievement." (Charles A. Kupchan, Professor of International Affairs, Georgetown University, and Senior Fellow, Council on Foreign Relations)
"Ebert and Flemes ask all the right questions about the goals of rising regional and the responses of other states to them. They find that structural explanations do not take them far and do a good job of turning to ideas, leadership, and domestic politics to explain the variation. A must read for any student or practitioner of international relations." (Richard Ned Lebow, Professor of International Political Theory, King's College London and James O. Freedman Presidential Professor Emeritus at Dartmouth College)
"This volume is an excellent addition to the literature, combining a sophisticated appreciation of power transition with nuanced knowledge concerning the impact of these changing dynamics on regional interactions. Through their mobilization of such a rich collection of case studies, Ebert and Flemes deserve full credit for taking seriously the role of secondary-state responses to rising powers. Although commonly viewed as passive followers, with little autonomous agency, these secondary powers are revealed to possess a wide range of strategies- and forms of contestation – in their relationship to the BRICS. Such a countervailing and ambitious cross-regional collection deserves a wide readership." (Andrew F. Cooper, Professor, the Balsillie School of International Affairs and the Department of Political Science, University of Waterloo, and Associate Research Fellow-UNU CRIS (Institute on Comparative Regional Integration), Bruges, Belgium)