© 2018
European Democratic Institutions and Administrations
Cohesion and Innovation in Times of Economic Crisis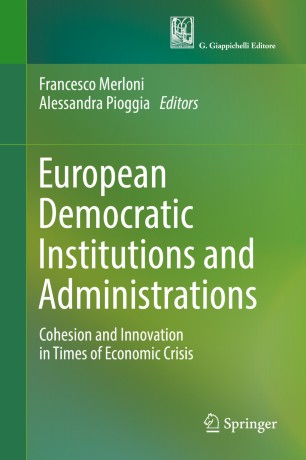 Table of contents
About this book
Introduction
This book presents the results of extensive international comparative research into the effects of the economic and financial crisis on democratic institutions and social cohesion policies. The collected studies describe and analyse the measures (often referred to as "reforms") adopted to counter the crisis and the effects of these measures.
It investigates three areas: the impact on the functioning of institutions, with respect to the relationship between representative institutions and governments, and the organisational structure of administrations at national and local levels; the impact that the austerity policies on public spending have on social rights; and the impact on traditional instruments of public action (administrative simplification, public services delivering, the use of common assets).
The general findings highlight the effect of reducing the administrative and government capacity of the democratic institutions: the public sector, rather than being innovative and made more effective, declines, offering increasingly poor public services and making bad decisions, fuelling substantive or formal privatisation solutions, which in turn cause further weakening.
Keywords
Financial crisis
Public debt
Euro zone
Austerity policies
Public services
Public administrations
European law
Comparative administrative law
Comparative constitutional law
Bibliographic information