© 2018
Tropospheric Ozone and its Impacts on Crop Plants
A Threat to Future Global Food Security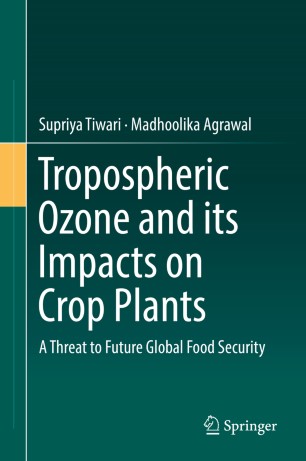 About this book
Introduction
The research and its outcomes presented here focuses on tropospheric or ground level ozone, in particular due to its surfacing as a major threat to crop productivity around the world. This book presents the ozone concentration data for a variety of geographical regions, examines the factors responsible for its increasing concentrations and its potential effects on physiological and biochemical responses culminating in crop productivity losses which, in turn may pose a serious threat to global food security. Beside this, certain ameliorative measures that could be adopted to assess ozone injury in plants are also discussed.
Global climate change scenarios predict a significant increase in future tropospheric ozone concentration. Particular attention is therefore given to evaluate the effect of global climate change on ozone concentrations. Readers will also discover how yield losses due to ozone are related to changes in the socio-economic conditions of the
society, especially in South Asian regions. Students and researchers studying crop and soil science, environmental scientists, risk assessment professionals and policy makers will find this book of interest.
Keywords
tropospheric ozone
plant productivity
ozone induced yield reductions
cultivation of ozone resistant species
threats to food security
physiological and biochemical modifications
antioxidative defense response
Bibliographic information