© 2018
Imagining Britain's Economic Future, c.1800–1975
Trade, Consumerism, and Global Markets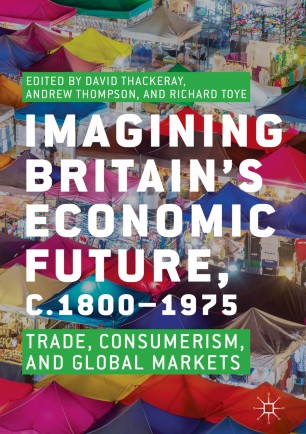 Table of contents
About this book
Introduction
Following the Brexit vote, this book offers a timely historical assessment of the different ways that Britain's economic future has been imagined and how British ideas have influenced global debates about market relationships over the past two centuries. The 2016 EU referendum hinged to a substantial degree on how competing visions of the UK should engage with foreign markets, which in turn were shaped by competing understandings of Britain's economic past.
The book considers the following inter-related questions:
- What roles does economic imagination play in shaping people's behaviour and how far can insights from behavioural economics be applied to historical issues of market selection?
- How useful is the concept of the 'official mind' for explaining the development of market relationships?
- What has been the relationship between expanding communications and the development of markets?
- How and why have certain regions or groupings (e.g. the Commonwealth) been 'unimagined'- losing their status as promising markets for the future?
Keywords
Market Relationships
European Referendum 1975
Commonwealth
Empire
European Economic Community
Bibliographic information