Russia's Turn to the East
Domestic Policymaking and Regional Cooperation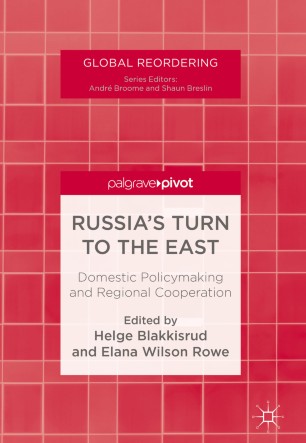 About this book
Introduction
This book is open access under a CC BY license.

This book explores if and how Russian policies towards the Far East region of the country – and East Asia more broadly – have changed since the onset of the Ukraine crisis and Russia's annexation of Crimea. Following the 2014 annexation and the subsequent enactment of a sanctions regime against the country, the Kremlin has emphasized the eastern vector in its external relations. But to what extent has Russia's 'pivot to the East' intensified or changed in nature – domestically and internationally – since the onset of the current crisis in relations with the West? Rather than taking the declared 'pivot' as a fact and exploring the consequences of it, the contributors to this volume explore whether a pivot has indeed happened or if what we see today is the continuation of longer-duration trends, concerns and ambitions.
Helge Blakkisrud is Head of the Research Group on Russia, Eurasia and the Arctic at the Norwegian Institute of International Affairs (NUPI), Norway. His research interests include Russian regional politics, centre–region relations and federalism, as well as nation-building, nationalism and national identity in Russia and Eurasia. His most recent books are The Governors' Last Stand: Federal Bargaining in Russia's Transition to Appointed Regional Heads, 2005–2009 (2015) and The New Russian Nationalism: Imperialism, Ethnicity and Authoritarianism, 2000–2015 (co-edited with Pål Kolstø, 2016).
Elana Wilson Rowe is Head of the Research Group on Emerging Powers and International Development at the Norwegian Institute of International Affairs (NUPI), Norway; and Adjunct Professor at Nord University, Norway. Her present research interests include Russian foreign policy, particularly in the areas of energy and climate change, and Arctic politics. She is the author of Russian Climate Politics (2013), editor of Russia and the North (2009) and co-editor of The Multilateral Dimension in Russian Foreign Policy (with Stina Torjesen, 2009) and Russia's Encounter with Globalization (with Julie Wilhelmsen, 2011).
Keywords
Development studies
Russia
Far East
international affairs
Energy
Shanghai cooperation organization
Economic development
Security policy
Multilateral organizations
Diplomacy
Regionalism
Russian–European relations
Russia's "pivot to the East"
Annexation of Crimea
Regional politics
Eurasia
Ukraine
sanctions regime
foreign policy
Open Access
Bibliographic information