Public-Private Partnerships in Health
Improving Infrastructure and Technology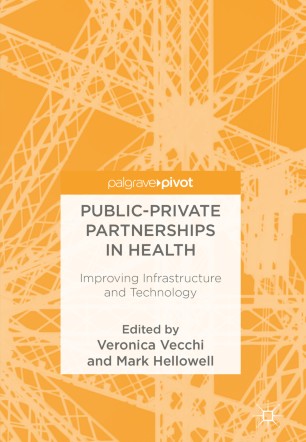 Table of contents
About this book
Introduction
This book considers the use of Public-Private Partnerships (PPPs) in the delivery of physical assets, infrastructure and technologies and related clinical services, in the health sector. The PPP model represents the most complex form of contracting transaction yet to have emerged in the health sector, owing to its long-term character, financial complexity, and risk-allocation mechanisms. This book draws on the lessons of policy-makers, managers and private companies to address the specific challenges in the health sector. It is
the
reference guide to PPPs in health, presenting the theory, evidence and practice, and making them operationally relevant to all PPP stakeholders.
Veronica Vecchi
is Professor of Public Management and Business Government Relations at Bocconi University School of Management (SDA Bocconi), Italy.
Mark Hellowell is Senior Lecturer at the University of Edinburgh, UK, where his research focuses on the public/private interface in healthcare financing and services.
Keywords
Healthcare
Public Private Partnerships
Health policy
Governance
Contracting
Management
PPP strategies
Implementation
Decision-makers
Service
Physical assets
Infrastructure
Technology
Clinical services
Health Sector
World Bank
Markets
Health agencies
International financial institutions
capacity gap
Bibliographic information