Political Leaders and Changing Local Democracy
The European Mayor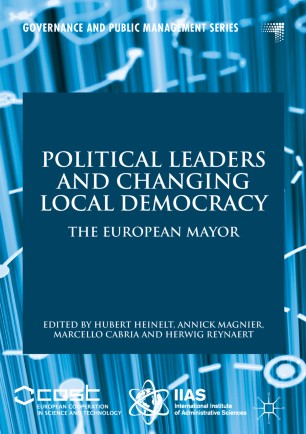 About this book
Introduction
This book studies political leadership at the local level, based on data from a survey of the mayors of cities of more than 10,000 inhabitants in 29 European countries carried out between 2014 and 2016. The book compares these results with those of a similar survey conducted ten years ago. From this comparative perspective, the book examines how to become a mayor in Europe today, the attitudes of these politicians towards administrative and territorial reforms, their notions of democracy, their political priorities, whether or not party politicization plays a role at the municipal level, and how mayors interact with other actors in the local political arena. This study addresses students, academics and practitioners concerned at different levels with the functioning and reforms of the municipal level of local government.
Hubert Heinelt is Professor of Public Administration, Public Policy and Urban Research at the Institute for Political Science, Technische Universität Darmstadt, Germany.
Annick Magnier is Professor of Urban Sociology and Jean Monnet Chair in 'The City in European Integration' at the Department of Political and Social Science, University of Florence, Italy.
Marcello Cabria is a PhD candidate in a joint programme between the Department of Social and Political
Sciences at the University of Florence, Italy, and the Department of Cultures, Politics and Society at the University of Turin, Italy.
Herwig Reynaert is Professor at the Department of Political Sciences and the Dean of the Faculty of Political and Social Sciences at Ghent University, Belgium.
Keywords
Local government
Municipal administration
Local Autonomy Index
Political recruitment
Political careers
Political ambition
Leadership
Directly elected mayors
Indirectly designated mayors
Institutions
Participatory democracy
Representative democracy
Urban regime
Economic crisis
Decentralization
Political parties
Party Significance Index
New Public Management
Public Private Partnership
Strategic planning
Bibliographic information