© 2018
African Female Entrepreneurship
Merging Profit and Social Motives for the Greater Good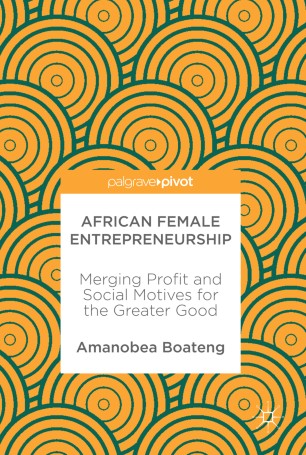 About this book
Introduction
'This is a welcome contribution to the growing body of research on African entrepreneurship. Its focus on African women entrepreneurs and their unique ability to merge profit and social motives showcases the innate strength, courage and dynamism of our women, and reinforces the pivotal role that they are playing in shaping the Continent's bright future.'
—Ndidi Okonkwo Nwuneli, Founder of LEAP Africa, Co-Founder of AACE Foods and Sahel Capital, and Author of Social Innovation in Africa: A Practical Guide for Scaling Impact.
'Amanobea Boateng provides a truly thought-provoking book.'
—Dr. Valerie Sabatier, Grenoble Ecole de Management
Contributing to academic discussions on entrepreneurship and gender in Africa, this book provides coverage of recent trends and an exploration of the evolution of female entrepreneurship over time. This innovative new text, written from an African woman's perspective, fills a gap in current literature on this topic and places important focus on the role of female entrepreneurship in Africa's development as a continent. Focussing on key issues such as social feminism and the capability approach, the author addresses the possibility of a potential overlap between social entrepreneurship and female entrepreneurship in Africa. Insightful accounts of women from countries such as South Africa, Namibia and Ghana, along with theoretical research into the further development and advancement of female entrepreneurs, make this book an important must-read for those interested in entrepreneurship and gender in Africa.
Keywords
gender
social entrepreneurship
development
emerging markets
African culture
development
economic development
social feminism
capability approach
Bibliographic information
Reviews
"This book gives female African entrepreneurs a voice  to enable them  improve the quality of their own lives and those of their households while becoming agents for positive social change within the community." (Bibi Bunmi Apampa, Director, Empowerment Centre, UK)
"Amanobea Boateng's book is a welcome contribution to the growing body of research on African entrepreneurship. Its focus on African women entrepreneurs and their unique ability to merge profit and social motives showcases the innate strength, courage and dynamism of our women, and reinforces the pivotal role that they are playing in shaping the Continent's bright future." (Ndidi Okonkwo Nwuneli, Founder of LEAP Africa, Co-Founder of AACE Foods and Sahel Capital, and Author of Social Innovation in Africa: A Practical Guide for Scaling Impact)
"By addressing female entrepreneurship in Africa, this book promises to be seminal. In a very engaging way, Amanobea Boateng reveals relatively unknown forms of entrepreneurship and lessons we can learn from African women. This book is appealing to an audience interested in African economics but also in entrepreneurship at large." (Dr. Vassili  Joannides de Lautour, Associate Professor, Grenoble Ecole de Management, France and Queensland University of Technology, Australia)
"Female entrepreneurship matters globally, but, as Amanobea Boateng argues in her book, female African entrepreneurs are change agents because they are hybrid social entrepreneurs. Amanobea raises important questions that challenge our usual way of viewing female entrepreneurship, including its influence on spirituality, communities, and social feminism, and she offers new avenues for action and theorization. She provides a truly thought-provoking book." (Dr. Valerie Sabatier, Director of the Doctoral School and Professor of Strategy, Grenoble Ecole de Management)