© 2018
Intelligent Transportation Systems
802.11-based Vehicular Communications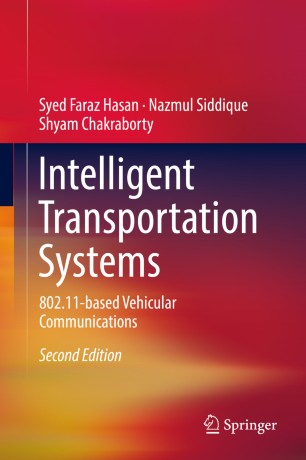 About this book
Introduction
This new edition continues to focus on the nuts and bolts of wireless network access for devices on board vehicles. It has been updated to reflect on the most recent trends in the broad domain of Intelligent Transport Systems. It covers 802.11ac – a recent standard that is very useful in context where a large amount of information is to be sent in a limited time window. The new edition includes a thorough revision of the 'Vehicular Communication: Issues and Standards' chapter, with new citations and a new subsection on security. The new edition also cites numerous fresh research works to give readers an updated overview of the field. An update on the time delay incurred by applications that always run in the background (Skype, etc) is also covered. The 'Future Directions and Research Ideas' chapter is also largely re-written. An entirely new chapter on D2D communication keeping in view the vehicular context has been added in this edition. This volume will be a useful addition to the libraries for both the students of wireless communication and those studying applied probability.
• Updated for new standards and recent works in wireless networks and vehicular communications;
• Includes new information on D2D communication for vehicular networks, and a new discussion on security issues;
• Features a new case study on the provision of infotainment services in vehicular setups;
• Discusses the vision of autonomous and connected vehicles.
Keywords
802.11 Networks
Wireless Internet Service Provider Roaming (WISPr)
Disruption Tolerant Networking
Handover Delay
Hidden Markov Models
Stochastic Modeling
Traffic Monitoring
Vehicular Communications
802.11ac Protocol
Bibliographic information