© 2018
Africa and the World
Bilateral and Multilateral International Diplomacy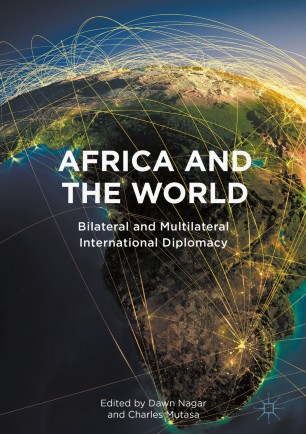 Table of contents
About this book
Introduction
This book probes key issues pertaining to Africa's relations with global actors. It provides a comprehensive trajectory of Africa's relations with key bilateral and major multilateral actors, assessing how the Cold War affected the African state systems' political policies, its economies, and its security. Taken together, the essays in this volume provide a collective understanding of Africa's drive to improve the capacity of its state of global affairs, and assess whether it is in fact able to do so.
Dawn Nagar
is Senior Researcher at the Centre for Conflict Resolution (CCR), Cape Town, South Africa.
Charles Mutasa is an independent development policy consultant. He served as Deputy Presiding Officer of the first African Union-Civil Society Organisations (CSO) Bureau, and as vice-president of the African Union Economic Social and Cultural Council (ECOSOCC) between 2005 and 2008. He was the former Executive Director of
the African Forum and Network on Debt and Development (AFRODAD).
Keywords
Africa's relations with global actors
post-Cold War Africa
African foreign policy
US-Africa relations
Africa and western powers
Africa and the International Criminal Court
Africa and the International Monetary Fund
Cold War global powers
Africa and emerging powers
Pan-African politics
Bibliographic information
Reviews
"An edited compilation of thoughts and perspectives on Africa's multifaceted interactions with the rest of the world. … Africa and the World: Bilateral and Multilateral International Diplomacy offers credible insights into Africa's external engagements in a unique and novel way." (Oluwole Olutola, African Studies Review, Vol. 63 (1), 2020)
"Africa and the World is informative and easy to read. It offers scholars and students significant insights into the policy and strategy frameworks that inform Africa's engagements with the world, and the push and pull factors that underpin Africa's bilateral and multilateral relations." (Sanusha Naidu, South African Journal of International Affairs, February, 2019)