Catholics and US Politics After the 2016 Elections
Understanding the "Swing Vote"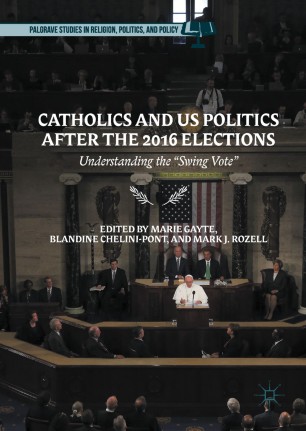 Table of contents
About this book
Introduction
This book examines both the evolution of the Catholic vote in the US and the role of Catholic voters in the historic 2016 elections. There is a paucity of academic works on Catholics and US politics—scholars of religion and US politics tend to focus on evangelical Protestant voters—even though Catholics are widely considered the swing vote in national elections. The 2016 presidential election proves that the swing vote component of that group matters in close elections. What Trump gained from his impressive showing among Catholics, he could certainly lose in 2020 (should he seek re-election), just as Hillary Clinton lost the clear advantage among Catholics achieved by Barack Obama in 2008 and 2012. The book begins by analyzing the ideological patterns in the politics of U.S. Catholics as well as key alliances, and concludes by studying the political influences of the U.S. Catholic Bishops and the Holy See.
Keywords
Swing Vote
US Catholic Bishops
Donald Trump and Religious Right
Catholic Latino Vote
Liberal Catholics
Catholics 2016 Presidential Election
How Did Catholics Vote
Trump Catholics
Clinton Catholics
Bibliographic information