© 2018
The Politics of Islamism
Diverging Visions and Trajectories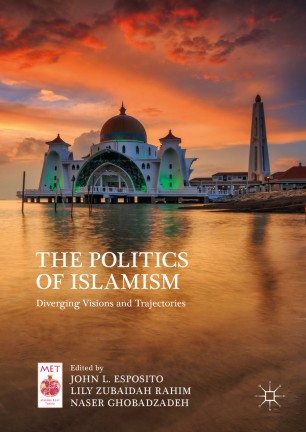 About this book
Introduction
This book offers a nuanced and muti-layered approach towards comprehending the possibilities of democratization or likelihood of authoritarian resilience in the Muslim world. The volume highlights the complex diversity within Islamist movements and parties— characterised by internal tensions, struggles and contestations. The very existence of this diversity within and among Islamist movements, and their general willingness to partake in mainstream politics, signals an important transformation in the Muslim world over recent decades. It demonstrates that the Muslim world has gravitated from the simplistic focus on the compatibility or incompatibility of Islam and democracy. Islamist movements and parties embody the multiple manifestations and trajectories within political Islam. The granular case-studies and theological analyses in this volume draw attention to the policy refinements, socio-political reforms and ideological transformations engendered by Muslim intellectuals and Islamist movements and ideologues. The diverse political landscape in the Muslim world is inextricably linked to the socio-political and theological shifts within Islamism—in particular, the yearning for greater social, economic and political justice, a yearning that lies at the core of an inclusive
wasatiyyah
Islam.
John Louis Esposito is University Professor, Professor of Religion and International Affairs and of Islamic Studies and Founding Director of the Prince Alwaleed bin Talal Center for Muslim-Christian Understanding at Georgetown University, USA.
Lily Zubaidah Rahim is Associate Professor in the Department of Government and International Relations at the University of Sydney, Australia.
Naser Ghobadzadeh is Research Fellow at the Institute for Social Justice at the Australian Catholic University in Sidney, Australia.
Keywords
Political Islam
Arab Spring
Islam and Democracy
Democratization of Islamic Political Theology
Salafi Islamization
Muslim-majority states
Orientalist discourse
religious authority
Arab Cold War
Bibliographic information
Reviews
"The Politics of Islamism is a very insightful scholarly compilation. It cogently and objectively unpacks the complexity surrounding politics of Islam, and informs analytically the reader of the deployment of the religion as an ideology of political and social change at different levels. It is a major contribution to the field and deserves to be read widely." (Amin Saikal, Distinguished Professor and Director of the Centre for Arab & Islamic Studies, Australian National University)