Platonic Legislations
An Essay on Legal Critique in Ancient Greece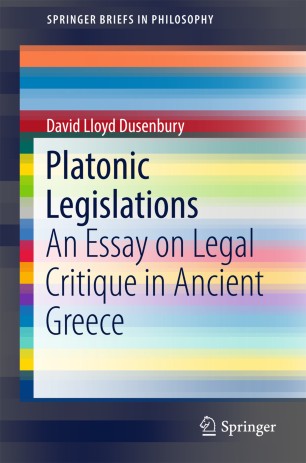 About this book
Introduction
This book discusses how Plato, one the fiercest legal critics in ancient Greece, became – in the longue durée – its most influential legislator. Making use of a vast scholarly literature, and offering original readings of a number of dialogues, it argues that the need for legal critique and the desire for legal permanence set the long arc of Plato's corpus—from the Apology to the Laws.
Modern philosophers and legal historians have tended to overlook the fact that Plato was the most prolific legislator in ancient Greece. In the pages of his Republic and Laws, he drafted more than 700 statutes. This is more legal material than can be credited to the archetypal Greek legislators—Lycurgus, Draco, and Solon.
The status of Plato's laws is unique, since he composed them for purely hypothetical cities. And remarkably, he introduced this new genre by writing hard-hitting critiques of the Greek ideal of the sovereignty of law.
Writing in the milieu in which immutable divine law vied for the first time with volatile democratic law, Plato rejected both sources of law, and sought to derive his laws from what he called 'political technique' (politikê technê). At the core of this technique is the question of how the idea of justice relates to legal and institutional change.
Filled with sharp observations and bold claims, Platonic Legislations shows that it is possible to see Plato—and our own legal culture—in a new light
"In this provocative, intelligent, and elegant work D. L. Dusenbury has posed crucial questions not only as regards Plato's thought in the making, but also as regards our contemporaneity."—Giorgio Camassa, University of Udine
"There is a tension in Greek law, and in Greek legal thinking, between an understanding of law as unchangeable and authoritative, and a recognition that formal rules are often insufficient for the interpretation of reality, and need to be constantly revised to match it. Dusenbury's book illuminates the sophistication of Plato's legal thought in its engagement with this tension, and explores the potential of Plato's reflection for modern legal theory."—Mirko Canevaro, The University of Edinburgh
Keywords
Ancient legal theory
Philosophy of law
Fundamentals of law
Platonic Legislations
Plato's Laws
Politics of Truth
Idea of Justice
Flux of Law
Plato's Republic
Theoretical legislation
Plato's constitution
Divine law-codes
Socratic critique of Athens' law-code
Sophistic defence of legislation
Sophistic critique of legislation
Foreclosure of truth
Formality of law
Plato and the future of law
Bibliographic information
DOI

https://doi.org/10.1007/978-3-319-59843-7

Copyright Information

The Author(s) 2017

Publisher Name

Springer, Cham

eBook Packages

Religion and Philosophy Philosophy and Religion (R0)

Print ISBN

978-3-319-59842-0

Online ISBN

978-3-319-59843-7

Series Print ISSN

2211-4548

Series Online ISSN

2211-4556