© 2018
International Election Observation in the Commonwealth Caribbean
Race, Aid and Democratization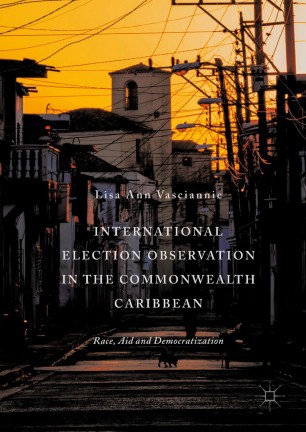 About this book
Introduction
This book examines the practice of international election observation in a Caribbean context. It presents a survey of the Commonwealth Caribbean perspective and a concise case study of Guyana between 1964 and 2015. This research traces the roots of election observation and how this practice became integrated into the landscape of Caribbean electoral politics. More specifically, the study examines the process by which election observers have become key actors in elections in the Commonwealth Caribbean. One of the issues the book contemplates is why Caribbean countries accept the imposition of observation within the context of sovereignty. The case of Guyana and other Anglophone Caribbean states shows the costs of not having observers have been multidimensional and have eclipsed concerns of respecting state sovereignty.
Lisa Vasciannie is Lecturer at the University of the West Indies at Mona, Jamaica. Dr. Vasciannie has done extensive resea
rch on international election observation in the Commonwealth Caribbean and within the Organization of American States. She recently served as Vice President of the Organization of Women of the Americas in Washington, DC, USA and was part of the Commonwealth Observer team to the Maldives in 2012 and Tanzania in 2015.
Keywords
Election Observation in the Caribbean
international election observation
election observation in Guyana
role of regional and international organizations in democracy
nongovernmental organizations
democracy assistance
external actors
Electoral Politics
electoral authorities
Bibliographic information
Reviews
"Lisa Ann Vasciannie's book International election observation in the Commonwealth Caribbean is a convincing and important contribution to research concerning electoral participation and democratic relations in Commonwealth Caribbean countries. … This book opens up the research area, asks probing questions and invites others to contribute further." (Karen Hunte, Commonwealth & Comparative Politics, Vol. 56 (3), May, 2018)