The Art and Craft of Policy Analysis
Reissued with a new introduction by B. Guy Peters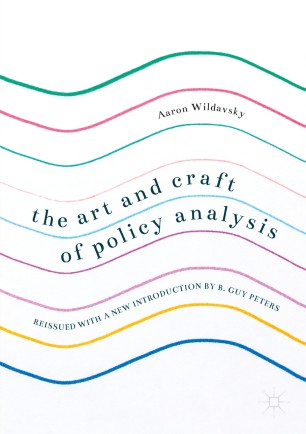 Table of contents
About this book
Introduction
'While identifying the pertinent theme of the interplay between Reason and Power as at the heart of policy analysis, Wildavsky redressed the rationalist claims of analysis-for-policy forever. Nobody could position the enduring relevance of this classic better than Guy Peters.'
– Peter Hupe, Associate Professor, Department of Public Administration, Erasmus University Rotterdam, the Netherlands
'Aaron Wildavsky's The Art and Craft of Policy Analysis is an essential reading in public policy and has influenced numerous cohorts of students in the United States and other world regions. The book is as timely as it was upon its first publication and Guy Peters is the most suitable scholar to put the book in context.'
– Jale Tosun, Professor of Political Science, Institute of Political Science, University of Heidelberg, Germany
The Art and Craft of Policy Analysis is a classic work of the Public Policy discipline. Wildavsky's emphasis on the values involved in public policies, as well as the need to build political understandings about the nature of policy, are as important for 21st century policymaking as they were in 1979. B. Guy Peters' critical introduction provides the reader with context for the book, its main themes and contemporary relevance, and offers a guide to understanding a complex but crucial text.
B. Guy Peters is Maurice Falk Professor of Government at the University of Pittsburgh, USA, and an adjunct professor at the City University of Hong Kong. He is President of the International Public Policy Association, founding co-editor of the European Political Science Review and was founding co-editor of Governance.
Aaron Wildavsky (1930-1993) was Professor of Political Science at the University of California Berkeley, USA, and founding dean of its Goldman School of Public Policy. Wildavsky received honorary doctorates from a number of universities, including Yale and the University of Bologna. His book, Politics of the Budgetary Process, was recognized by the American Society for Public Administration as one of the most influential works in the field.
Keywords
Policy analysis
Public Policy
Politicization
Polarization
Political choice
Social relations
Policy failure
Federalism
Rationality
Organization
Scepticism
Health policy
Citizens
Bibliographic information