Nordic States and European Integration
Awkward Partners in the North?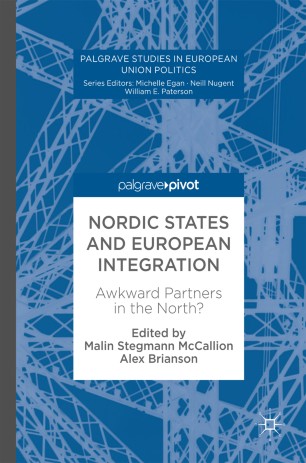 About this book
Introduction
This book provides the first lengthy study of awkward states/partners in regional integration. Is awkwardness a characteristic of states in many global regions, or is it reducible to the particular case of the United Kingdom in European integration? The authors assess how far the concept of 'awkwardness' can travel, and apply it to the cases of the Nordic States' involvement in and with the European Union – Denmark, Finland, Sweden, Iceland and Norway. The renewed interest in the Nordic region is in part thanks to recent events in the on-going crisis of European integration, and particular its member states' response to the refugee question, which appears to be undermining years of intra-regional solidarity even between the Nordic countries. The security dimension of the region further broadens the book's readership beyond Nordic Politics specialists to IR scholars, as the Nordic countries share borders with Russia and are key players in the Baltic Sea Strategy seeking to involve Russia in looser forms of regional cooperation.
Keywords
Denmark and the EU
Sweden and the EU
Finland and the EU
Norway and the EU
integration policies in Nordic states
Euroscepticism in Nordic states
relationship between Nordic states
political differences among Nordic states
Nordic relationship with Russia
European foreign and security policy
Euro crisis
Politicization of EU affairs
Public opinion and European Integration
Iceland and the EU
Economic power relations in Nordic states
Security relations in Nordic states
Bibliographic information