© 2017
Mega-Regional Trade Agreements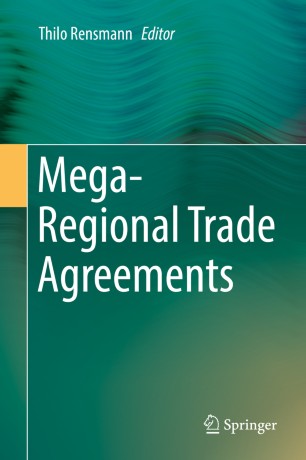 Table of contents
About this book
Introduction
This book provides an in-depth analysis of "Mega-Regionals", the new generation of trans-regional free-trade agreements (FTAs) currently under negotiation, and their effect on the future of international economic law. The main focus centres on the EU-US Transatlantic Trade and Investment Partnership (TTIP), the Trans-Pacific Partnership (TPP) and the EU-Canada Comprehensive Economic and Trade Agreement (CETA), but the findings are also applicable to similar agreements under negotiation, such as the Regional Comprehensive Economic Partnership (RCEP).
The specific features of Mega-Regional Trade Agreements raise a number of issues with respect to their potential effect on the current system of international trade and investment law. These include the consequences of Mega-Regionals for the most-favoured-nation (MFN) principle, their relation to the multilateral system of the World Trade Organization (WTO), their democratic legitimacy and their interaction with existing bilateral investment treaties (BITs).
The book is intended for academics and practitioners working in the field of international economic law.
Keywords
TTIP negotiations
Democratic legitimacy
Trade agreements
Investment protection standards
Patent protection
Intellectual property rights
International investment agreements
Environmental goods
Environmental regulation
Non-tariff barriers
Liberalising trade
EU energy sector
Labour standards
Competition law
Government procurement
Bibliographic information
Reviews
"Mega-Regional Trade Agreements sheds light on many important aspects and implications of current trends towards greater regionalisation in global trade and its multilevel governance related to megaregionals. Overall, it represents a useful contribution to a much-needed discussion on this area of international law." (Ondřej Svoboda, The Lawyer Quarterly, Vol. 9 (2), 2019)