© 2017
Consumer Law and Socioeconomic Development
National and International Dimensions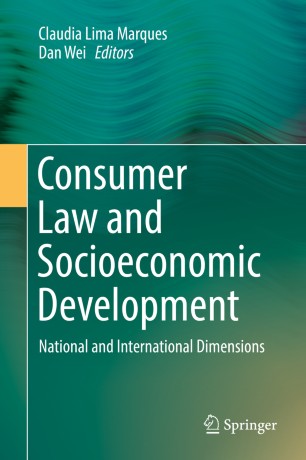 Table of contents
About this book
Introduction
This book reflects the research output of the Committee on the International Protection of Consumers of the International Law Association (ILA). The Committee was created in 2008, with a mandate to study the role of public and private law to protect consumers, review UN Guidelines, and to model laws, international treaties and national legislations concerning protection and consumer redress. It has been accepted to act as an observer not only when the UNCTAD was updating its guidelines, but also at the Hague Conference on Private International Law.
The book includes the contributions of various Committee members in the past few years and is a result of the cooperation between the Committee members and experts from Australia, Brazil, Canada and China.
It is divided into three parts: the first part addresses trends and challenges in international protection of consumers, while the second part focuses on financial crises and consumer protection and the third part examines national and regional consumer law issues.
Keywords
International protection of consumers
2015 Revision UN Guidelines
Tourist protection
Financial consumer, digital consumer sales and services
Consumer law and socioeconomic development
International consumer law
UNGCP
Common consumer right
IFTTA
MERCOSUR
Consumer law in China
Consumer law in Australia
Consumer Defense Law
Consumer credit
Bibliographic information