© 2017
Public International Law of Cyberspace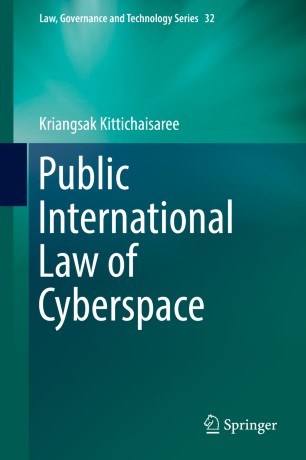 About this book
Introduction
This compact, highly engaging book examines the international legal regulation of both the conduct of States among themselves and conduct towards individuals, in relation to the use of cyberspace. Chapters introduce the perspectives of various stakeholders and the challenges for international law. The author discusses State responsibility and key cyberspace rights issues, and takes a detailed look at cyber warfare, espionage, crime and terrorism. The work also covers the situation of non-State actors and quasi-State actors (such as IS, or ISIS, or ISIL) and concludes with a consideration of future prospects for the international law of cyberspace.
Readers may explore international rules in the areas of jurisdiction of States in cyberspace, responsibility of States for cyber activities, human rights in the cyber world, permissible responses to cyber attacks, and more. Other topics addressed include the rules of engagement in cyber warfare, suppression of cyber crimes, permissible limits of cyber espionage, and suppression of cyber-related terrorism. Chapters feature explanations of case law from various jurisdictions, against the background of real-life cyber-related incidents across the globe. Written by an internationally recognized practitioner in the field, the book objectively guides readers through on-going debates on cyber-related issues against the background of international law.
This book is very accessibly written and is an enlightening read. It will appeal to a wide audience, from international lawyers to students of international law, military strategists, law enforcement officers, policy makers and the lay person.
Keywords
international law cyberspace
human rights in internet
cyber warfare
cyber terrorism
cyber crimes
cyber espionage
online data protection
cyber attack
privacy online
international humanitarian law in cyberspace
Internet governance
cyber law
Bibliographic information