© 2017
Rapidly Changing Securities Markets
Who Are the Initiators?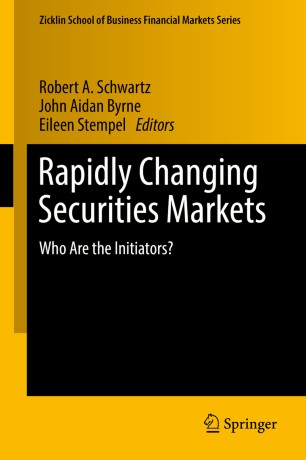 Table of contents
About this book
Introduction
This book offers a look at equity markets and what they have experienced since the 1997 Order Handling Rules were instituted. Specifically, it examines the tremendous technology innovation, intensified competition between an expanding set of alternative trading venues, and continuing regulatory changes that have occurred. Who have been the key initiators? How has market quality evolved over this period in response? What further structural and regulatory changes are still needed? These are among the key questions addressed in the volume, titled after the Baruch College Financial Markets Conference entitled
Rapidly Changing Securities Markets: Who are the Initiators?
The Zicklin School of Business Financial Markets Series presents the insights emerging from a sequence of conferences hosted by the Zicklin School at Baruch College for industry professionals, regulators, and scholars. Much more than historical documents, the transcripts from the conferences are edited for clarity, perspective and context; material and comments from subsequent interviews with the panelists and speakers are integrated for a complete thematic presentation. Each book is focused on a well delineated topic, but all deliver broader insights into the quality and efficiency of the U.S. equity markets and the dynamic forces changing them.
Keywords
Equity Markets
Order Handling Rules
Alternative Trading System
Market Structure Strategy
Market Structure Regulation
Market Technology
Market Quality
Price Discovery
Bibliographic information