© 2017
Organic-Inorganic Composite Polymer Electrolyte Membranes
Preparation, Properties, and Fuel Cell Applications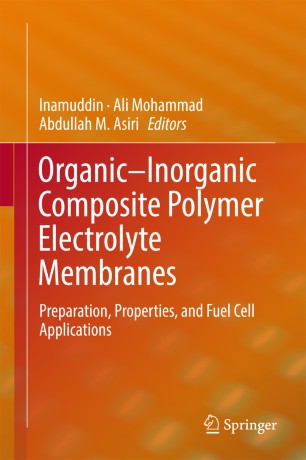 About this book
Introduction
This volume explores the latest developments in the area of polymer electrolyte membranes (PEMs) used for high-temperature fuel cells. Featuring contributions from an international array of researchers, it presents a unified viewpoint on the operating principles of fuel cells, various methodologies used for the fabrication of PEMs, and issues related to the chemical and mechanical stabilities of the membranes. Special attention is given to the fabrication of electrospun nanocomposite membranes.
The editors have consciously placed an emphasis on developments in the area of fast-growing and promising PEM materials obtained via hygroscopic inorganic fillers, solid proton conductors, heterocyclic solvents, ionic liquids, anhydrous H3PO4 blends, and heteropolyacids.
This book is intended for fuel cell researchers and students who are interested in a deeper understanding of the organic–inorganic membranes used in fuel cells, membrane fabrication methodologies, properties and clean energy applications.
Keywords
Advanced composites
organic-inorganic composite membranes
fuell cell technology
polymer electrolyte
electrochemical energy conversion
fuel from renewable energy
green energy device
ionic liquids
electrospun nanocomposite materials
electrospinning technique
Bibliographic information