© 2017
Recent Progress in Flow Control for Practical Flows
Results of the STADYWICO and IMESCON Projects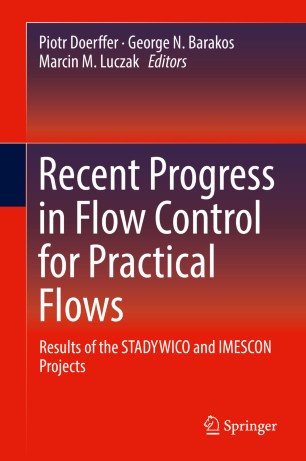 Table of contents
About this book
Introduction
This book explores the outcomes on flow control research activities carried out within the framework of two EU-funded projects focused on training-through-research of Marie Sklodowska-Curie doctoral students. The main goal of the projects described in this monograph is to assess the potential of the passive- and active-flow control methods for reduction of fuel consumption by a helicopter. The research scope encompasses the fields of structural dynamics, fluid flow dynamics, and actuators with control. Research featured in this volume demonstrates an experimental and numerical approach with a strong emphasis on the verification and validation of numerical models. The book is ideal for engineers, students, and researchers interested in the multidisciplinary field of flow control.
Provides highly relevant and up-to-date information on the topic of flow control;
Includes assessments of a wide range of flow-control technologies and application examples for fixed and rotary-wing configurations;
Reinforces reader understanding with case studies based on real aircraft;
Explains modelling methodologies and strategies for flow control of separated flows and numerous experimental measurement results on the real structures;
Illustrates new developments in actuator technology.
Keywords
Flow control technologies
helicopter rotor blades
Aircraft design
Structural dynamics
active control
Aircraft environmental impact
Exhaust emissions
Bibliographic information