Mathematical and Statistical Methods for Actuarial Sciences and Finance
MAF 2016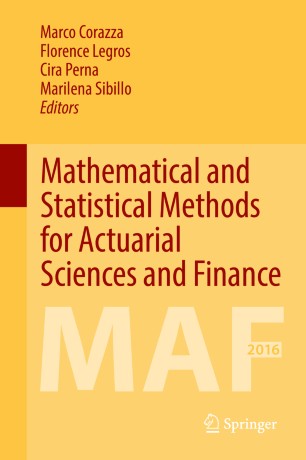 Table of contents
About this book
Introduction
This volume gathers selected peer-reviewed papers presented at the international conference "MAF 2016 – Mathematical and Statistical Methods for Actuarial Sciences and Finance", held in Paris (France) at the Université Paris-Dauphine from March 30 to April 1, 2016.
The contributions highlight new ideas on mathematical and statistical methods in actuarial sciences and finance. The cooperation between mathematicians and statisticians working in insurance and finance is a very fruitful field, one that yields unique theoretical models and practical applications, as well as new insights in the discussion of problems of national and international interest.
This volume is addressed to academicians, researchers, Ph.D. students and professionals.
Keywords
Actuarial sciences
Insurance
Finance
Mathematics
Statistics
Bibliographic information