Genetics, Evolution and Radiation
Crossing Borders, The Interdisciplinary Legacy of Nikolay W. Timofeeff-Ressovsky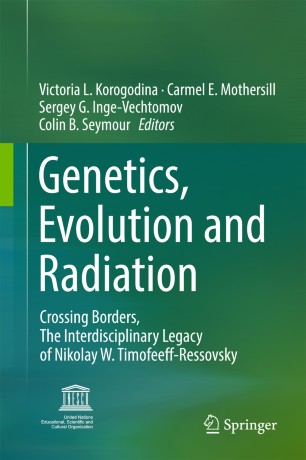 Table of contents
About this book
Introduction
This book is dedicated to the great scientist and outstanding individual Nikolay Wladimirovich Timofeeff-Ressovsky. The book brings together a number of brief stories/essays about Timofeeff-Ressovsky including "Stories told by himself", and scientific chapters addressing his major research areas: genetics, radiobiology, radiation ecology and epidemiology, and evolution. Timofeeff-Ressovsky contributed to several fields of biology and established new directions of scientific research. He often repeated the phrase, which would later become famous: "Science should not be approached with the ferocity of wild animals". In keeping with that philosophy, the issues discussed here are still open.
Each scientific part starts with a current review; the chapters present leading scientific schools and views. The main theme discussed in the genetics part is mutation variability in the context of linear (replication, transcription, translation) and conformational template processes, and its dependence on phylogenetic group. In turn, the radiobiology chapters focus on the reorganization of DNA, cell, and population variability under low-dose irradiation, sparking indirect processes and adaptive response. The radiation ecology and epidemiology parts present data on the consequences of nuclear plants and related accidents for ecological systems and human beings. Here some approaches to estimating radiation risks are also offered. Evolution laws are demonstrated in the genomic universe, plant-microbe symbiosis, stabilizing and destabilizing (directional) selection. The last essay demonstrates the principles of organization operating in local animal populations, which are approached as social organisms of complex systemic nature.
The chapter 'Radiation-Induced Aging and Genetic Instability of Mesenchymal Stem Cells: An Issue for Late Health Effects?' is available open access under a CC BY 4.0 license.

Keywords
Nikolay W. Timofeeff-Ressovsky
Genetic Processes
Radiobiology Mechanisms
Radiation Ecology and Episemiology
Evolution Laws
Mutation
Bibliographic information